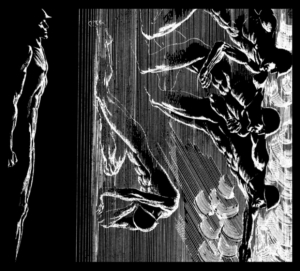 First Human Ferro is a solo-outfit by Old Captain's chieftain Olegh Kolyada. In early 2016 he did create the album Heterodox at the Oda Relicta headquarters. There are some more 'lost' tracks from those recording sessions, which have been made available too in mean time via this label's Bandcamp-page - FYI. Heterodox is a record that consists of eight compositions which last in between three and eight minutes (total running time: just over three quarters of an hour), and it comes with quite cool artwork by Stasys Krasauskas. Oh yes, about the label: on March 24th 2016 I did upload a review for a live registration of Die Weisse Rose, and in the future there will follow some other reviews too for (older) stuff – but first things first, and that's Heterodox. And to be honest: I was quite anxious about starting this review, not because this project is run by the label owner, but because of the complexity and the confusion that I did experience each time when I listened to it.
The album opens with Offret (06:07), which's opening sequence sort of reflects both dreamlike hypnosis (in a cosmic way – do you hear the whales singing?) and some sort of rest-in-peace tranquillity. Though, 'tranquillity' isn't necessarily an appropriate description, for this journey does not offer the chance to enter any level of boredom. Actually, Heterodox is a story about mindful explorations, discovery expeditions through inner dimensions in order to uncover hidden dimensions behind the Inner Eye. …at least, that's how I do experience this grandiose piece of Aural Art.
There is a whole story of communicating elements, which is quite unique, even for the actual Dark Ambient current. Primal expressions of emotions get defined through pieces like Transkommunikation, sometimes the focus lies on mesmerizing floats-of-sound, then again the whole turns towards somewhat noisy droning excerpts (cf. a piece like Progenitor Unripe). Yet in each single case, every chapter is an excerpt of a greater story. Quite ingenious is the diversity in execution, including more ambiental parts, eerie passages (Nova Utopia, for example, truly bewitches…), trancelike excerpts, minimal moments and / or harsh-droning pieces. Let the music do the talking…
Let's be sure about this: Heterodox is an experience you have to grow into. It isn't just another easily-digestible Ambient field recording that lacks of spirit, but this album surely expresses an own identity that touches ritualism (I haven't mentioned the mighty esoteric composition Throat Transfixed before!), introspection (cf. pieces like Mother Death or Transkommunikation) and minimalism (Offret, Misogyny etc.). With this album the listener is permanently searching for inner truth, for a reality which we might be part of (or which we are afraid to be part of ???)… Heterodox symbolizes this inner duality… …the most beautiful way…
This experiment / experience is of a superbly high quality, and then I'm not referring to the compositions or execution / atmosphere alone; sound quality-wise too, Heterodox is magisterial in essence. The album does not drown into over-produced fakeness; no, this recording comes with a well-balanced mix, a great equilibrium in between all layers of sonic presence.