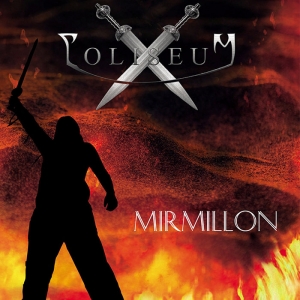 Coliseum are a young project from the city of Liège, Belgium, which includes members of Sercati / The Nightstalker (their albums have been reviewed by undersigned – enter the band's name in the 'search'-tab to read the reviews on them) and (in mean time) Zardens (latest album reviewed as well; check it out via the very same approach). The band's existence is based on a concept, and as the moniker sort of says, it indeed has to do with the glorious gladiator fights at the Coliseum in Rome. It was where warriors, voluntary and captured, battled until death, for glory, for the pleasure of the population, for the (dictatorial) manifestation of the caesari and their government... Bread and games, or something like that…
This nine-track recording, which lasts for thirty-seven minutes, opens with an untitled intro, with floating keyboard lines at the one hand, and a cage fight (swords, a commentator, a yelling public) at the other. As soon as the one-to-one battle starts, the synth melodies evolve, turning into a more orchestral, yet still quite symphonic presence, with the French-speaking comments being joined by spoken words, eventually. Let the games begin!
What Coliseum bring differs from the members' main projects, despite some comparisons. Coliseum stand for a very melodic, somewhat catchy form of Epic / Death / Dark / Black / Heavy Metal, especially based on guitar riffing and melodies, and a quite diverse vocal approach. When referring to the latter, well: screams, grunts, yells, shouts, choirs, spoken words, whispers and so on – about every angle of the throat does pass the revue. Only the crooning mourns or operatic voices seem to be absent. It might be confusing, once in a while, yet this huge scala on vocal timbres sort of fits to the story-telling, the concept of the album. Besides, it goes well with the diverse instrumental approach.
As said, the main structures are based on melodious tremolo leads and prominent solo riffing. On top of it, skull-hammering guitar solos with a modest Fingerspitzengefühl penetrate the whole experience again and again. There is quite some variety in tempo, with slower parts going hand in hand with fast-paced eruptions, and everything in between – yet whole of the time with that focus on harmonious guitar-based melodies. And it's quite inappropriate to put a label on it, for there are elements from different metalized trends involved – cf. a non-limited list I started in the former paragraph. Yet still Coliseum sort are able to create an own sound with a clear goal to pursue. Their recognizable approach typifies for sure their will (and ability?) to create a specific approach – and for sure I think they succeed to do so.
As a reviewer, I am balancing in between objective and subjective elements. From objective point of view, I do need to mention the clean production sound too. The production is polished-up quite well, brightly shining like a major Power / Heavy / Thrash act, and with a mix perfectly balanced for all parties involved. Yet I am a human (yeah, believe it or not, but genetically seen, I really am), so subjective as well, and I think – but hey, that isn't but my personal opinion; you do not need to agree (as if I do care) – and I think that Mirmillon is based too heavily on clichés and catchiness. Catchiness isn't necessarily a bad thing – I just get nauseous when exaggerating the balance in between would-be bravery and low-profiled ear-play – but the vast number of clichés bother me. For me, but once again it is my personal vision, this album would rather appeal to fans of modern (or timeless) Metal in general, than adepts of nasty and underground-oriented Extreme Metal. But from technical point of view, Mirmillon is a modest master piece with some huge potential, so give it a try listening and then you can decide for yourself.