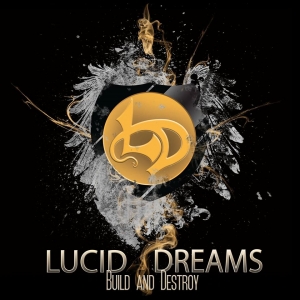 Release Date:
Saturday, October 10, 2015
Oslo-based act Lucid Dreams return with their second full length album, two years after their independently and untitled debut release, via their new label Red Ball Productions. The Norwegian sextet (Rune Cutuen-guitars & production / Jan-Erik Lysø-bass / Rune Hagen-drums / Henrik Antonsson-guitars / Fredrik 'Vain' Sindsen-lead vocals and lyrics / Thorleif Østmoe-keyboards, backing vocals) had the result mixed and mastered in Sweden in August 2015, at the ?legendary? Studio Fredman with Fredrik Nordström (too many acts to mention; I'm sure you know this guy's works) at the helm.
First of all, please pay attention. This review 1) deals with a band from Norway, and 2) the review gets done by undersigned - but do NOT expect some Nordic-styled Black Metal album to read about this time, okay?!
Actually, Lucid Dreams are a rather traditional Heavy Metal band. I haven't heard their nameless debut album, but Build And Destroy is, within its genre, quite interesting. For thirty eight minutes, the album brings fiery and up-tempo Power / Epic / Heavy / Traditional Metal that holds the middle in between –and hold still – Iron Maiden, Lynch Mob, Sabaton, Pretty Maids, Queensrÿche, Dio, Saxon, Symphony X and Ayreon (and even very early Europe comes to mind, if you want it or not!). Indeed, it means that there is a certain and specific direction, yet with quite a diverse approach. The albums differs in intensity and atmosphere, with both harsher and powerful pieces at the one hand, and rather catchy Hard Rock parts at the other (though fewer in totality), yet maintaining a very prominent focus on guitar-driven structures / melodies, and spiced by rocking solos, fabulous twin riffs, hard-rocking rhythms, some floating synth lines, and clean melodious vocals.
In contradiction to many colleagues from the Power / Heavy Metal / Prog Hard Rock trend, Lucid Dreams are capable to keep the listeners' attention almost whole the time. It has to do with several aspects. There is the enormous diversification in structure and atmosphere, the grandiose playing performance qualities, the magisterial sound, but one must not forget that there are quite some extra-ordinary pieces on this album. I have some 'favourites' in mind, but I am pretty sure some amongst you have others on the foreground. And some parts that I like, eh, not that much (especially the more progressive pieces, but that isn't but a subjective opinion) might be adored by you, and vice-versa.
Surely, not every composition will convince, but since a dark-minded human being like undersigned does not disagree with this band's effort, it simply must be something interesting, won't it?!