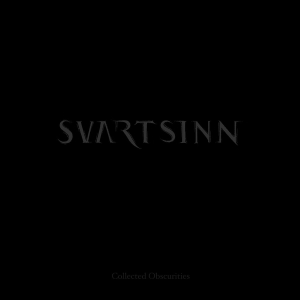 For almost two decades, Norway's Svartsinn can easily be considered one of the most impressive acts within the Scandinavian (and worldwide) Dark Ambient scene. The project was born at the very end of last century, created by Trondheim, Norway born Jan Roger Pettersen. Throughout the years, there were not that much official releases, yet all of them put they mark on the universal Dark Ambient landscape. Within quite a lengthy list with influential artists, Jan Roger might play within the premier league, I think.
Just like this album (which this review deals with), many Svartsinn things saw the light via one of my favourite labels within this genre, Cyclic Law, in collaboration with another great label, Old Captain. Like the title might reveal, Collected Obscurities is a collection of obscure stuff, hard to get, taken from rare collaborations or compilations from the past, and covering a period of more than a decade of unique Aural Art.
Svartsinn create that kind of Dark Ambient that uses droning soundwaves, ethereal noises, well-chosen field recordings and (vocal) samples, and dreamlike, even meditative structures, to reach a higher level of consciousness. Though, consciousness goes only with a realistic view on the deficiencies of the subconscious, and with a huge dose of introspection. That's exactly what happens when listening to Svartsinn. His sonic landscapes are long-stretched, and therefore giving the time to explore the inner self, yet with a permanently evolving dynamism, injecting industrial sounds and hypnotic drones to strengthen the post-dimensional atmosphere.
Quite incredible is the coherence of those creations, even though initially written and recorded over a period of ten years, as mentioned before. Jan Roger has a clear vision on what he wanted, and still wants, to achieve with this project, and that defines the organic cohesion of his works (cf. his earlier releases, following the very same grid). Especially the tracks performed on his own do follow the known direction. And still they surprise, because of intelligently constructed depth, because of subtle arrangements, because of crafted writing skills.
Worth mentioning are the collaborating artists on four different creations: Psychomanteum (defunct, yet half of the original duo is continuing under the Apócrýphos-moniker, with work on Cyclic Law too [in case of interest, check out the review for The Prisoners Cinema, posted on June 8th 2015, or the one for Stone Speak, published on March 14th 2017, which was released by another excellent label within the Dark Ambient genre, Cryo Chamber]), Gydja, Allseits and Northaunt – indeed, all of them splendid acts too.
And on top of it, the compilation comes with a so-called Alternate Mix of September Dirge, which was originally part of the album Elegies For The End (2009). It might be quite a short hymn, but how beautiful this is…