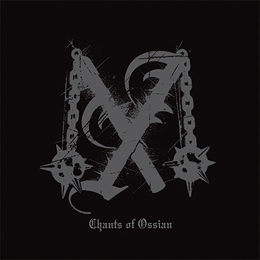 Release Date:
Thursday, November 21, 2013
Honestly, I did not know Morar before, and apparently this band (or project) seems to be rather mysterious. But I do not care, because the aural result is what finally counts. And in Morar's case I am truly blown away. What you will read right now (or maybe you won't; shame on you, because Morar deserve all support they can get!) is about the first, and I guess the only thing they recorded until now: the demo / EP Chants Of Ossian. The material was self-released on CD-r on June 6th, and on cassette via Nebular Winter half a year later. Since it was Nasos from Nebular Winter Productions who offered me this recording, it's him I mention as label and date. But that's bullsh***…
Chants Of Ossian is a five-track recording (26:20 minutes) with nothing but highly interesting compositions. It opens with the title track, with its 3:33 minutes the shortest piece on this release. This track differs from the other ones, but it's an aural pearl for sure. This song is rather slow-paced (not doomy) and utterly obscure, with a chilly melodic lead riff and an epic undertone, as if it's the omen for a Pagan battle to come. Even the shamanistic choirs might contain a hint of Pagan / Folk / Viking-alike epic. Great song to open this stuff with. But it gives a confusing impression, for Morar's compositions come from another angle. As from the second track, O, Morar, you'll notice. O, Morar brings fast, rhythmic, no-nonsense and purely Second Wave-inspired (Nordic) Black Metal of the most obscure kind (Darkthrone and the likes might be a reference). The trem riffs and blast beats, the up-tempo rhythm section and volcanic vocals sound thunderous, grim, misanthropic (I'm getting horny…). But Morar are not just performing this sh*t just like that. The song I just mentioned, O, Morar, comes with a grandiose (and I mean gran-di-ose!) semi-acoustic part somewhere in the middle; it makes you dream of long forgotten battles, victories and defeats. Truly impressive it is. Then the song turns over, once again, in the fierce and harsh aggression of the first minutes, and then again the very same mood of integer yet glorious beauty returns, bringing un-joy and un-pleasure. Four Stones, the next song, is not as fast (though at least as impressively powerful and energetic) and pretty paganized. Once again the highly melodic tremolo approach is of a very high standard. Thy Fame, the longest piece (clocking almost eight minutes), is pretty slow and atmospheric, and with its (semi) acoustic leads and clean backing vocals once again touching another detailed specification of the (Norwegian) early-nineties grandeur. There is even a piano part at the end… Of The Fallen, finally, is another beautiful, slow-paced Pagan / Viking-oriented hymn with a focus on ominous grimness and abyssal obscurity. It's the most hypnotic track on Chants Of Ossian, if only because of the magisterial haunting tremolo leads (earlier Hades / Hades Almighty, Kampfar and Forgotten Woods touch my memory) and semi-acoustic melodies.
My conclusion is: Morar exclamation exclamation exclamation…