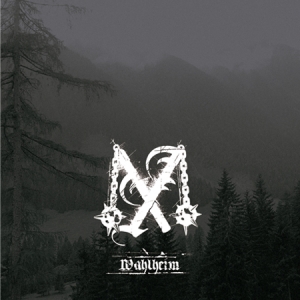 I was totally blown away two years ago when Nebular Winter Productions' owner Nasos introduced me to Morar. They did debut with the five-tracker Chants Of Ossian, which did stand for fabulous Nordic-styled Epic Black Metal with a Norwegian touch of superiority and grandeur. Check out the review I wrote for that EP, posted on September 21st 2014.
Now Morar return with their next epos, called Wahlheim, once again available via mighty Nebular Winter Productions. Still the band (project?) turns out to be a mysterious entity, basically inspired by Nature and the origins of sophisticated existence, translated through seven hymns that last for forty seven minutes. It comes on both CD and tape – the latter being limited to 66 copies only.
And pretty much in the vein of that mini-recording Chants Of Ossian, Wahlheim stands for Nordic majesty. The whole concept is based on somewhat melancholic leads, high-melodic riffing and slow, little repetitive rhythms. Of course the traditional elements, such as acoustic material (intros and outros, as well as instrumental intermezzos) and sounds of nature (wind, water) do not lack. Quite characterising is the tempo, which is slow, really slow, with, of course, the presence of a couple of faster excerpts. There is quite some focus going to the guitar leads, the tremolo-way, which sort of are the spine for most pieces on this album. But do not underestimate the importance of the vocals (see next paragraph), drums and bass lines either, for they are of undeniable importance too, in order to enforce this powerful experience.
The main vocals are quite sulphuric screams, like vocal chords smeared with formic acid and rusted steel solved in acetone. Morar make use of some spoken words too, as well as warm, harmonic chants and clean singing. Indeed it fulfils all possible expectations, but this is the way it's meant to be!
Personally I appreciate all compositions, both the heavy ones as well as the acoustic pieces, but some are truly outstanding. Let's take Lonely Mountains, for example, with faster, driven and up-tempo parts and slower moments. The balance in between melancholy (the most victorious kind of melancholy) and intensity (the most epic kind of intensity) is beyond imagination in this song. But the integer excerpts throughout this epic lift the whole up to the highest reachable dimensions of bathorian persuasion. And what to think about those fabulous drum patterns in a piece like Thee To Scorn – marching towards war, marching towards glory! Or the violent outbursts that please mankind's ear drums with grimness and sardonic pleasure in a hymn like Torn By Thorns…
And to make this whole aural adventure even more attractive, Wahlheim is drenched within a mostly grim, rough-edged sound. The production reminds me to the legendary Grieghallen sound, and this strengthens the Nordic atmosphere, evidently.