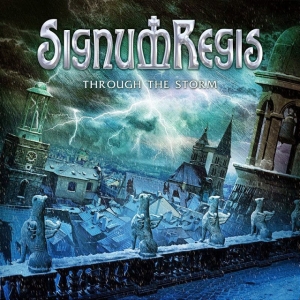 This band exists since 2007.  At that time their vocalist was none other than Göran Edman (ex Yngwie Malmsteen) with whom they recorded their first, self-titled album in 2008.  Their second album was also sung by Mr. Edman, but on their third album they employed the services of a score of singers.  Since early 2014 Mayo Petranin is their new vocalist, an unfamiliar name to me, but he's been singing in Castaway and Dirty Game, two completely unknown bands for me.
This new EP brings us 4 new tracks, as well as a re-recorded version of 'All Over The World' from their debut album, and a cover medley of the Yngwie Malmsteen classics 'Vengeance/Liar'.
But upon hearing this I was astounded. This is melodic power metal at it's best. And I haven absolutely no problems with Christian metal bands.  What matters to me is that the music sounds good, that the vocals are good, and if on top of that the lyrics are not to cheesy or infantile, that's a plus.
Ulterium Records might not have the biggest names on their roster, but they sure know how to pick up a decent band.