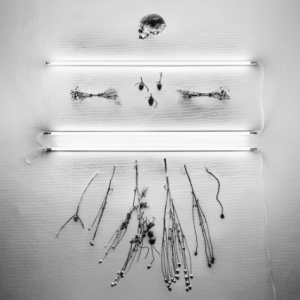 Album Title:
The Abyss Stares Back # 5
After The Abyss Stares Back # 1, The Abyss Stares Back # 2, The Abyss Stares Back # 3, and, indeed, The Abyss Stares Back # 4, we can now welcome The Abyss Stares Back # 5, the final instalment of this vinyl series. Under the collaborative flag of Absent In Body, this time too, The Abyss Stares Back stands for a co-operation by some of our world's most unique, prominent and authoritarian (smiley…) artists. Before we had Alkerdeel (for which I will upload a review soon about their latest album Lede, released under the protection and support of Belgium's finest Consouling Sounds) and Nihill, Primitive Man and Hessian, Amenra and Vvovnds, and SardoniS with Drums Are For Parades, and now we can enjoy a partnership of three of Mater Terra's most influential musicians, one from the United States and two from Belgian soil: respectively Scott Kelly (especially known from Neurosis and Tribes Of Neurot), Colin H. Van Eeckhout (you know, the guy involved with e.g. Amenra, Kingdom, CHVE, Harlowe, Sembler Deah etc.), and Mathieu Vandekerckhove (also in acts like Kingdom and Amenra, and the guy behind Syndrome – talking about the latter: I will write and post some liner notes on the fabulous Forever And A Day album soon too).
As Absent In Body, these three human beings wrote and recorded the fifth part for The Abyss Stares Back series, after Hypertension Records' Ralf kindly asked the collaborators involved to be part of it. Apparently Mathieu and Scott were working on a split, and they did play live on stage together, so this was the ideal opportunity to share ideas, interests, craftsmanship and passion for Music. It's not a strange thought to take Colin into this adventure, and so the Absent In Body partnership was born.
This release lasts for twenty minutes (way too short!), and it comes in an edition of 500 vinyl copies with quite sober artwork that totally follows the trend once set by the first release of this series. It's a one-track journey that surely combines the potential, craftsmanship and professionalism of all members involved. And the concept is to focus on 'all shards of thoughts, of dreams both good and bad, of consciousness both present and absent'. Isn't that a fine idea?...
The track starts very sober, pretty much in the Syndrome vein, with ambient guitar drones, slowly dissolving, slowly building up, taking its time to climb higher and higher. After somewhat more than three minutes and a half, it gets nastier, with firstly some distant percussion, and suddenly very vile strings and contemptuous vocals. At about seven minutes, everything drops back once again, transforming into another fragile, mesmerizing sound-collage, painting the physical shape of a distant, trans-dimensional space. It's hypnotic, obscure, even ominous and oppressive, but quite beautiful too, these dreamlike soundwaves. Again, it takes quite some more minutes before the mass sort of explodes again. Haha, 'mass', and Amenra-members involved; you got the word-play? Indeed, after twelve minutes, The Abyss Stares Back once again shows its sharp, bloody teeth, hammering and pushing loud and merciless. The very slow tempo strengthens the monolithic approach much more intensively, twisting and teasing the listener's mind, and punishing the eardrums with barb-wired caresses.
The sound production is enormously raw, somewhat noisy, industrial and disfigured, and that's the only correct way to experience such gargantuan sonic miscreature. The balance of the different chapters (sort of tranquil – harsh – quiet again – and brutal to end with) makes sure these almost twenty minutes of sonic Sludge-muck are easily digestible – yet still you need a strong stomach to endure this aural journey.
PS: there's a video, quite explicit, focusing on the world's biggest and nastiest sickness, called humanity – no further comment (I need to control my misanthropic vision on human life, you see…).
And hey, dixit the members, the collaboration under the Absent In Body moniker is not supposed to be a one-moment project. The three of them are about to collaborate further under this name, and to play live to. So we will hear about them again in the (near?) future! All together: hurray!