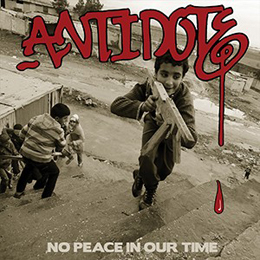 Release Date:
Monday, November 12, 2012
The first new Antidote album in 21 years, "No Peace In Our Time", is a way back to the Old School produced by the band and mastered by Howie Weinberg. Just in time to celebrate the 30-year anniversary of NY hardcore, this album they themselves describe as hard as fuck old school. It also has Agnostic Front Roger Miret on it on the track Rise Above.
Knowing this and listening a couple of times to the album the conclusion can be made very fast. Antidote was honest, they have made an old school album which brings you back in time instantly with no overproduced sounds. Combine this sound with socially critical lyrics and you have one angry and powerful album that will slap you in the face.
This album is a truly hard comeback for a legendary band, if you are into hardcore this album is one you have to listen to!