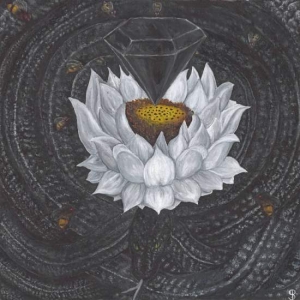 A new band from the Indian city of Kolkata (Calcutta) is Aparthiva Raktadhara, which means something like 'unhealthy bloodstream'. The trio, being V. Hydra (shamanic hammer-trance), Takshaka (sacred string vibrations) and Nachash (assorted mantras), recently recorded some songs, collected as Agyat Ishvar ('unknown god'). The three tracks get released on black vinyl, limited to 300 copies via Germany's Iron Bonehead Productions, and of course there is a digital buy available too via the label's Bandcamp-page.
Side A opens with a weird yet attractive, even sexy introduction, a collection of vocal samples (no f*cking idea where they come from, or what they deal with, but those spoken words sound scarifying and eerie) and hallucinatory sounds and noises.
The real stuff, however, is like a brain-smashing, merciless attack on the listeners' eardrums. Violent riffs, skull-crushing drum blasts, vengeful strings and a malignant throat are gathered into a chaotic maelstrom of utter sonic terrorism. Both Dismal Anahata Transmissions (on the A-side) and Proclamation Of The Empty (side B) are creations of aural whirlwind art, leaving no room for rest of peace. In a way, I just have to think about that other morbid Indian entity (hailing from the very same city, actually), Tetragrammacide, or other South-East Asian combos like Deiphago, Abhorer, Orator, Serpents Athirst Impiety or Genocide Shrines. Even Black Witchery, Nuclearhammer, Blasphemy, Bestial Warlust, Teitanblood or Goat Semen might come to mind. Promising, not?... Okay, it is hard to look after 'structure' and 'melody', but the chaotic approach is controlled and docile.
Annoying frustration: the sound quality. The production sounds as if everything was recorded in an empty container, and the mixture fails to offer an equally divided representation of all instruments. Bass and rhythm guitars are way too 'backgroundy', with those drum salvos acting like an eruptional tsunami. Sad but true… But that isn't but my sole negative remark.
Oh yes, the band is currently finishing a next assault for Iron Bonehead Productions, so stay tuned!