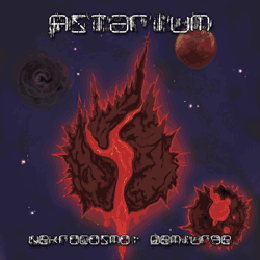 Since I already wrote about the history and discography of this project in the reviews I recently did for the (re) release of Wyrm Of Melancholy (see update November 11th 2014) or Atenvx (updated on December 1st 2014), I will refer to them. I will go immediately to the review of the aural part for this mini-album, which was recorded once again by SiN at the SH Studio (from December 2013 till February 2014).
The five compositions on Nekrocosmo: Demiurge last for almost half an hour, the bonus song included. The EP opens with the short instrumental piece Flashback, which typifies Astarium's characteristic approach immediately. Though… it sounds remarkably lighter. But of course it isn't but the introduction. Nonexistent Flower destroys the softer approach of the intro, and shows SiN's fantastic creativity to compose that eerie and obscure form of Black Metal-injected Classical Ambient. Okay, there is a progression going on, and Astarium might smoothly evolve, but the core of this Aural Art remains maintained.
Those who know this project do not need any additional info anymore, I guess, but for those who live on another planet, or just cured from deafness: Nekrocosmo: Demiurge is mainly based on orchestral, semi-cosmic, ambient or symphonic keyboards, supported by gritty black grunts (and some growling throat-speeches) (only two of the new songs, for your info, come with lyrics / vocals; both others are instrumental) and Metal instrumentation (guitars, bass, you know the concept…). Especially the instrumental part (with exception of the synths) is rather supportive, though never superficial or superfluous. And several trem leads, by the way, define the initial structure of several compositions on this recording (and all former ones too, evidently). It's important to understand the relationship in between the prominent keyboard melodies and the rhythm section, and to endorse the interaction in between all of them.
Besides the four newly written tracks, Nekrocosmo: Demiurge includes Obsessed By Astral Hunger, another superior creation taken from another fabulous Astarium-full length, 2010's Dethroned Of Impostor (originally released via Victory By Fire Records, re-released a first time, on tape, by Apocalyptic Art, and done once again in early 2011 via Russia's Margin Art Records, a sub-division of Nihil Art, that takes care of this EP's release too, in co-operation with Dark East Productions, also from Russia).