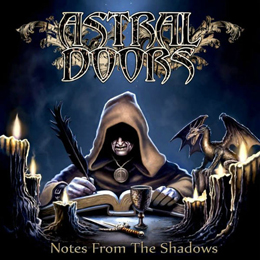 Line up :
Nils Patrik Johansson - Vocals
Joachim Nordlund - Guitars
Ulf Lagerström - Bass
Johan Lindstedt - Drums
Jocke Roberg - Keyboard
The seventh album in 12 years, you can call that productive allright. The band was formed in 2002 by the Swedish drummer 'Johan Lindstedt' and singer 'Nils Patrik Johansson'.
The songs that both gentlemen made are based on the true old school metal like: 'Rainbow', 'Dio', 'Black Sabbath', 'Deep Purple' and so on. Therefore they are called the Swedish 'Dio'. The album is an old school heavy metal record but the recordings are sublime.
With the typical organ sounds in between the classic heavy metal guitar riffs and the terrific dark voice of 'Nils Patrik Johansson'.
The record begins with some rousing songs that sound super heavy, to move on to 'Die Alone' which is the heart of the album. A very catchy song, but I find it to long since it's a song of 9 minutes and a bit, too little is done within this huge timespan. There are many repetitive parts in it which makes it a bit of a drag. The rest of the songs are very heavy stuff, but the best songs are in the first half of the album. Nevertheless, the band has put together a great old school heavy metal album. It's not renewing, but the fans of the real old school metal should like it.
Tracklist:
1.         The Last Temptation Of Christ
2.         Disciples Of The Dragon Lord
3.         Wailing Wall
4.         Shadowchaser
5.         Die Alone
6.         Hoodoo Ceremony
7.         Southern Conjuration
8.         Walker In The Stalker
9.         Desert Nights
10.       In The Name Of Rock
11.          Confessions