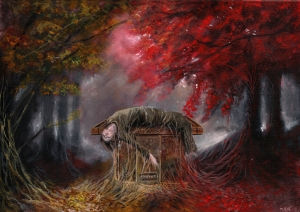 Ius Vitae Necisque is the third result of an unholy marriage in between Tasman-based act Atra Vetosus and Belgian label Immortal Frost Productions, after 2011's A Palace Shrouded In Emptiness and 2013's Voices From The Eternal Night (a review for that release, by the way, was put online on September 9th 2014). The quintet, still the very same line-up as on the former full length (being: founding members Josh Gee and Josh Young, respectively vocalist and guitarist of the band, drummer Josef Bound, bassist Matthew Lopez, and guitar player Damon Parker), did record this material at Josh Young's Dawnless Studio (Josh took care of production, mix and mastering too at his own studio; and FYI: the drums were recorded in another studio, i.e. Five Stone Studio, with Douglas Briton).
This new album, called Ius Vitae Necisque, contains one lengthy new composition that last for twenty two minutes. It starts with a very fairylike, floating Drone / Ambient introduction, touching spheres of melancholy and integrity. Did anyone mention Moloch?... After almost four minutes, the whole slowly turns grimmer, when at first melancholic and long-stretched guitar lines join in (supported by distant screams), and step by step Ius Vitae Necisque focuses on the most atmospheric and melancholic side of the Black Metal spectrum. Indeed, the Atmo-DSBM trend might come to mind. But Atra Vetosus surely are not some Suicidal Black Metal act, for they dwell within spheres of the little catchier Scandinavian current (early Catamenia, Dissection and Naglfar will ring a bell for sure). However, these Aussies aren't just a copycat, for they are quite creative and inventive in their execution. This album is a one-piece effort, yet it sounds like a story told in different chapters, with melancholic passages, fierce outbursts and ambient interludes, all in one. Yet, it might seem like different songs woven into each other as if they get canalised into one single result – and as a matter of fact, I think it sort of is. In any case, the conclusion is a majestic monument of dark-edged melancholy.
In general, this album is less fast than its predecessor, and much more melancholic-atmospheric in sound. For the album is a one-track recording, yet sound-wise divided into several parts, it maintains the adventurous diversification of the former release, including the harsher parts, acoustic intermezzos, ambient integrity and somewhat catchy energetic excerpts – call it a diverse and open-minded, pervious pièce d'art.
Released in an edition of 500 copies, in slip-case format…