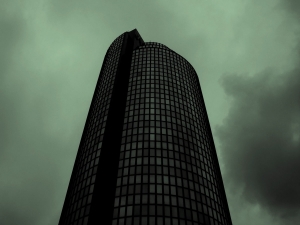 Release Date:
Thursday, October 1, 2015
You might have heard of the Noise / Drone / Ambient label Death Carnival Records before. If not, stay tuned, for I will write and upload a handful of releases from that French label in the near future, and on February 15th I uploaded one for a split in between HgM and L_Arsenne. Death Carnival Records are a label run by e.g. Arthur Arsenne, a multi-disciplinarian musical artist who also acts under the monikers A.Arsenne, L_Arsenne or Lands Of Conifer, or being part of projects like Mitantecuntri, TNA or the fabulous collaboration Arsenne + Cisak + Oleksinski (see update January 17th 2016 for a review on their collaborative result via Frozen Light). Anyway, Arthur recently came up with a new label, which will be the parent label of all efforts, and which gets called Arsenic Solaris. Two releases passed this roster in mean time, being an album for Stabb (review, of course, will follow soon), and the AUN With LOC split-release, which this review will deal with in the first place. But in any case: stay attentive, dear reader, for more sonic satisfaction to come by these two labels!
AUN With LOC consists of three pieces: one by Aun, one created by Lands Of Conifer, and one collaboration in between both projects. The split-CD comes in a digipack-edition, but it is strictly limited to 200 copies, so do not underestimate the importance etc…
The first piece is called Triste Migration, created by the duo Aun (Julie Leblanc and Martin Dumais). It's the shortest piece on this album, lasting for five and a half minute. With Triste Migration, Aun bring a mesmerizing, somewhat extravert (and still integer) Ambient / Drone epic. Like a trans-dimensional soundscape, it's based on floating and transcendental guitar lines, softly-tripping bass patterns and droning soundwaves, entering the subtle excellence of artists like Aidan Baker and actually quite some projects on the (sublime) Flemish label ConSouling Sounds.
The second effort is called Sombre Hivers, performed by Lands Of Conifer, one of the outfits by label owner Arthur Arsenne. The track lasts for eleven minutes and is quite heavier than the opening piece by Aun. Here too a mixture of obscure ambient soundwaves and pounding drones are melted into an aural explosion, an expressive outlet of sonic frenzy. Sombre Hivers ('sombre winters') is less guitar-driven (farewell melody…), yet noisier in its execution. As a result, the atmosphere is denser, creepier, more eerie, yet still of a dreamlike kind.
AUN With LOC ends with Live At The Zonmé (15:45), a collaboration in between both projects, recorded in May 2015 at the venue La Zonmé, a maison des artistes located in the city of Nice (very nice…), where this label is located too, by the way. My first concern with live recordings usually is the sound quality, but in this case there's no reason to complain. There are no irritating background noises, nor a badly produced mix as a result. The 'song' (I think it was, at least partly, improvised) starts little minimalistic, yet after some minutes the atmosphere turns towards a droning ritual that convincingly shows the elegance of both acts involved. It's like a fifteen-minute trip through ones unconscious state of being (or unbeing?), with the dual message whether it be background Muzak or attentive / attractive ear candy. Dense and smoky, this effort is a mind-penetrating journey eager to get explored and experienced by fans of either Aun or Mister Arsenne.