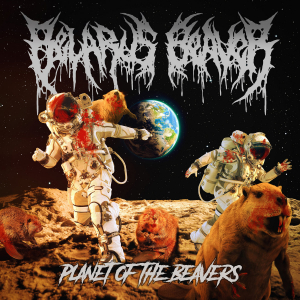 Release Date:
Friday, November 27, 2020
Even during harsh and uncertain eras, new labels arise out of the putrid depths. Please bid welcome to Grind To Death Records, a pretty young label based in Malmö, Sweden, which focuses on the harsher side of Death Metal (Brutal / Slam / Grinding Death Metal) and Grindcore. The label did start enormously tranquil, with only two releases in 2020 – yes, that's it – but I have the feeling that this isn't but an omen, the quiet before the storm, and I expect a tornado on skull-crushing material yet to come.
Yet, until then, I will focus on both 2020 releases, Satans Jävla Helvete by Helvete Jävla Skit (review coming up soon) and Planet Of The Beavers by Belarus Beaver. And it is this one that this review will deal with. Belarus Beavers are not located in the beautiful and peaceful country of Belarus, but they actually hail from Gothenburg, Sweden. It's a young collaboration of two choir boys, David 'Pos' Mauritzon (think: Sign Of Cain, Öldöds, RazorRape or Fuzzgod amongst others) and Victor 'LG' Lantz Graffman (of Pissboiler-fame). They had a first self-released (mini) album in 2018, called DAMnation, which showed their inspiration by, and dedication to our sweetest rodent of all, the beaver. And now they come up with the sophomore EP, Planet Of The Beavers, which is available on compact disc and digitally. The physical edition, by the way, is limited to 500 copies, and it comes with truly, eh, stunning artwork.
So, let's analyze the soundtrack to promote this bloody planet, where beavers rule and humans are but a prey. Planet Of The Beavers consists of twelve lullabies, clocking in between one and three minutes each (with a total running time of almost twenty minutes). Well, it deals with beavers; dangerous mammals indeed they are, murderers and executioners, molesters and tyrants, rapists and sadists… I did not know that; I thought it was a peaceful species, but apparently you can't trust them. And flee from them… The band makes use of some samples, which prove their spite and malevolence.
But of course, those samples are not the most important thing when talking about the sonic side of Belarus Beaver's newest epos (though it is of importance). Music(k)-wise, Planet Of The Beavers stands for a highly technical mixture of Blast Death and Grinding Death Metal, with most of the time a tempo that scorches and devastates. The hyper-kinetic performance, however, isn't just an avalanche of noise, a wall of sound, because the technically well-thought execution adds a very fine touch of elegance. The drum patterns especially are nuts, ranging from progressive to blasting. More than once, pulverizing bulldozer blasts just bruise the listener's ear drums with merciless and sardonic pleasure. Yet also the speed-up string riffs are of a mostly overwhelming kind. A fine detail for sure is that the sound of the guitars often are oh so 'Swedish', referring to the old school in its bruteness and its specific chainsaw'y timbre. And then you have that semi-operatic voice… Not! A throat, abyssal deep, spitting blood and mucus, like puking out lungs and any other intestine, sometimes 'joined' by a rather scream-like outburst. Anyway, that's somewhat the summary of the elements involved.
Indeed, this material won't reinvent hot water. Belarus Beaver do not have the intention to become the most original and creative band around. But hey, nobody needs that, okay – as long as the result convinces. Well, with Planet Of The Beavers, this duo surely pays tribute to, well, what about Aborted, Napalm Death, Regurgitate, Cephalic Carnage, Cattle Decapitation, Brujeria, Exhumed and Phobia, to name but a few. And seen their excellent song writing and superb performance, in combination with a truly powerful, monumental sound quality (rough yet finely mixed), the result is a recommendation for sure for all 'fan' (or freak) of any higher mentioned orchestra.
One last word: stay safe. Stay away from corona viruses, erupting volcanos and ABBA fans, yet especially from the Castor family, hehe…
https://grindtodeathrecords.bigcartel.com/product/belarus-beaver-planet-of-the-beavers
https://belarusbeaver.bandcamp.com/album/planet-of-the-beavers
https://www.facebook.com/GrindtoDeathRecords