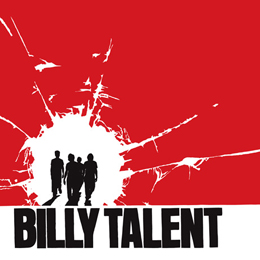 Album Title:
Self-titled 10th anniversary reissue
Release Date:
Tuesday, November 26, 2013
It's been ten years since the Canadian punk rockers in Billy Talent released their self-titled debut album. In 2013, they will rerelease the album, but containing two discs. On the first one, you will find the entire first record and on the second disc you will find the bonus material: some demo versions of real Billy Talent classics, an acoustic song and some live songs.
After having listened to the record, it's quite remarkable how they evolved throughout this decade, but songs such as Try Honesty and Line & Sinker still break lots of glass and really stand out. Also don't forget the sixteen page counting booklet which begins with a forward written by Alexisonfire's singer George Pettit in which he tells us about his perspective on Billy Talent after having toured with them countless times.
Billy Talent's 10th anniversary reissue is a must-have for the fans and it might be a starting point for some new breed of fans.