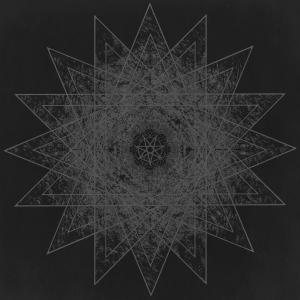 Album Title:
Diagrams Of A Hidden Order
A serpent crawls along the birthing womb of a nebulous sun. Labyrinths of broken mirrors trace the path to its utterly devoured glare. Endlessly superimposed patters of blazing shades that cloak the matrix of unconsciousness. Blind visions of a mutilated light. Revealed images of a chaos spawned geometry, diagrams of a hidden order.
Well, I have no idea, to be honest, whether this is a quote from one or another scripture or not, but this fragment is a nice introduction to Diagrams Of A Hidden Order, a new mini-album (about nineteen minutes, which is way too short!) by Spanish trio Black Earth. With the assistance of several guest musicians, Alejandro Tedin (he took care of the artwork once again), Miguel A. Garcia and Alejandro Durán did record this new material somewhere in 2015 at The Hidden Lodge, with Miguel taking care of the main productional duties as well as the final mix. The result was mastered at the Obsidian Eye Studio by Zack Allen, and it gets released in 500 copies on CD (4-panel digipack) via Black Plagve Productions, a small yet highly interesting sub-label of mighty Malignant Records. And for the tape-freaks, well, there seems to be a cassette edition too, available via In Solace Publishing.
Diagrams Of A Hidden Order follows the highly acclaimed, truly excellent full length A Cryptic Howl Of Morbid Truth (Graceless Recordings, 2014), and it is satisfying, in a morbid and masochistic way, to notice that this newest piece goes on in pretty much the very same poisoned vein. Opener Mantric Resonances Along Fields Of Dissolution (the longest piece out of three, clocking nearly seven minutes) starts quite scarifying. Distant noises, somewhat post-apocalyptic and horrific, surreptitiously crawl forth, secretly sneaking closer, and soon you get sonically assaulted, the violent way. Several layers attack your ear drums: dense guitar riffs, pounding drum salvos, creepy electronics and grim, provocative screams and grunts. There are many of them! And it evolves the whole of the time, conceptually and structurally. Sometimes it decelerates towards doomier proportions, then again the industrialised electronica takes over the main role, and another excerpt, for example, remorselessly spawns acid and venom. The electronics, and I think it is undeniably important to come back to the next statement, are not like in 'Electronic Music'. No, like some other grandiose projects within this specific style (I'll come back to it immediately), the electronic elements have to do with the creation of industrialisation, distortion, chaos and noise, not some danceable pop acting or exaggerated pumped-up modernistic would-be 'evilness' (f*ck those fake creatures!). on the contrary, instead Black Earth indeed create a noisy wall with a mostly uncomfortable and sickened attitude. Thank you, muchos gracias, or something… It is like a basic structure for this trio's Aural Art, referring to a Black Industrial / Drone / Noise-laden approach. But that's not sufficient to conclude. It is, and it is not either, Black Metal, Morbid Funeral Doom Metal, and Blaspheme Metal Of Death ugliness too. It's Ancient Moon, Reverorum Ib Malacht, earlier MZ.412, Gnaw Their Tongues, Enbilulugugal, Of Spire And Throne, Theologian and Zarach 'Baal' Tharagh, even Abruptum, Khost, Ævangelist or Blut Aus Nord, all in one, and more. Apocalyptic symphonies of mental rape, blackened outbursts of malignancy and pure evil, whatever you want to define this sonic un-beauty, you'll be overwhelmed by a grandiose execution of truly morbid orchestrations. It might seem 'blurry' at first, yet played at a high volume (a necessity!) for several times will reveal the many hidden layers, those fabulous hidden fragments that make an undefinable journey though the coldest, darkest dimensions of the Otherworlds. On top of it, the sound quality is at least as hammering, overwhelming and harsh (which indeed is a good thing!), lacking of progressive or clinical correction. So do give this soundtrack to pay tribute to Father Chaos a try!