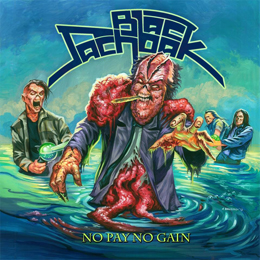 Hah...ain't that Internet community a wonderful thing? I mean, this next review could not have been done, if it wasn't for the Indian webzine Transcending Obscurity putting our attention to the release. Well, it might've somehow come to us anyway, but I wanted to take on the opportunity to fully thank the webzine's publisher, Kunal Choksi!
Hailing from the unlikely place of Petah-Tiqua near Tel-Aviv, Black Sachbak is a band started in 2010 by guitarist Dor HaShamen Plaut with the ambition to be everything that's not like other Metal band in Israel, or worldwide. In order to fulfill that dream, he's recruited a really exceptional lead vocalist in one Eliran Balaly, got himself secured the services of the young kick-as drummer Noam Chizo Salingre (already and still active in another band), and consolidated the line-up with bassist Lidor Sharaby, a very good musician indeed! Together, they've rehearsed a nice set of Crossover Thrash songs, recorded some demos, performed as much as possible, gained a reputation (or so they'll tell us) of "most hated band in Israel", ad have just recently released their debut album on CD in an incredibly limited rotation of 100 copies!
Streamable in its entirety (and for those preferring the digital, downloadable) at Bandcamp [find the link at (www.) facebook.com/BlackSachbak, where you can also view some live videos – from a recent visit to Germany (sound quality not great, but acceptable) – plus an official music clip for the album's opening track "Haircut I Never Got", and more – check out for yourselves). Expect high-paced (but not Speed-y) Crossover Thrash with great (and none too simple either) melodies, expert bass underlines, and frantic drumming, the latter both adding to the undercurrent catchiness of the whole! On top, you get a singer (occasionally backed by shouts in an appropriately fitting "gang" style) whom seems to have listened to early GWAR a lot. Of course, the band's lyrics have nothing to do with the Fantasy themes of the latter, but in stead veer from the personal-social (check that album opener!) to more global socio-political topics. The one exception seems to be the track "Soher", which is a cover from the band Tamil Cal, and sung in...in Hebrew, I suppose (it also has a short "sample" intro). Ah well, you know, as I have no knowledge of the language, I should not automatically make that song an exception, eh? At any rate, the singer goes for a slightly less scream-shouted style on this one.
Reviews posted on the band's debut seem to be rather on the positive side (but then I wouldn't any band which wanted to promote itself seriously, to start posting negative stuff, you know!), and I'd say that the description by Metal Temple, which puts the band as being a possible love child of Municipal Waste and Gama Bomb, is a relatively fair one...but adding early GWAR would actually have been even better! Great stuff this, and I'm certainly looking forward at hearing more of this band because, with only 10 songs the album is over in just 22 minutes...leaving the listener with a severely ravenous hunger for more...