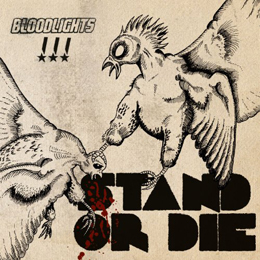 Before we start talking about the new album by Bloodlights, Stand Or Die, I'd like to tell you something more about who Bloodlights actually are.
When the Norwegian band Gluecifer broke up in 2005, guitar player Captain Poon, promised to be back with a legendary new project. After three years, in 2008 to be exact, this project finally saw the light and was embodied in the band Bloodlights. Five more years and two studio albums later, the Norwegian punk rockers released Stand Or Die. A funny fact about this album is that, when the music was actually ready, Captain Poon decided to throw everything in the trash can and start over again, because he wanted to make a cleaner and harder record than the two previous ones. This resulted in a very chaotic and slow writing process.
It took them one year and a half to complete Stand Or Die (part two). The final product contains ten rock songs, that aren't actually original at all. You can't really call them a punk rock band on this album. The focus rather has shifted to rock 'n roll and jazz, which is a pity I think. It still is quality music, with some very good guitar riffs though.
Fans of Motörhead, Thin Lizzy and even Peter Pan Speedrock will definitely dig Stand Or Die by Bloodlights, but the fans will be disappointed, I think. It's a shame they lost track of their punk rock roots.