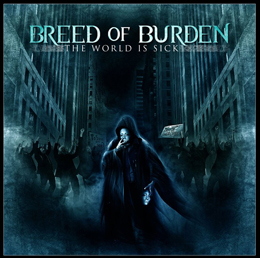 From London hails a new metal band which can already be seen as a new NWOBHM band. We're talking about Breed Of Burden who have released their very first full length, called The World Is Sick.
It's perhaps a bit early to say this, but it's very likely that this record will become a masterpiece. The 7 songs counting record opens with The Underdog, a viciously fast metal song which makes me think of bands such as Fear Factory and Sepultura. The next song is an instrumental ballad, followed by another shredder, Hoi Polloi Skizo. Title track, The World Is Sick, is the most outstanding song on the record. It contains a vast variety of elements: riffs, breakdowns, blastbeats, slow snoozy melodies and even female vocals (which makes me think of Lacuna Coil).
There is only one disadvantage to Breed Of Burden's The World Is Sick: it only contains 5 real songs, but they definitely already have my interest.