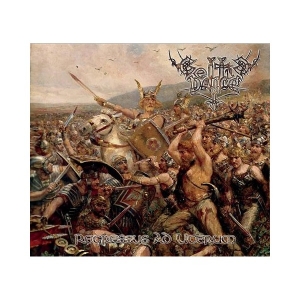 Celtic Dance are a Portuguese band formed two decades ago by Laldaboath, Tzaboath and Conquerer. After the recording of the 1998-debut Ancient Battlecry, Laldaboath and Tzaboath decided to leave, but Conquerer continued his activities with Celtic Dance. FYI: the re-release of that strong debut album was reviewed by undersigned and posted on this site on July 13th 2014. It took a couple of years before the band officially released new material by means of the Regressus Ad Uterum demo (there was a compilation in between the debut album and this new recording), which got released one year later, in 2004, as part of a split with Wolfthrone (more or less the same stuff, yet with addition of an intro). Then the band did split up until they revived in 2013 with a new MCD, Terror Romanorum (and a live-album, to be complete).
Poland's Lower Silesian Stronghold now re-issue the Regressus Ad Uterum recording, the version of the split, with new artwork (sublime!). All together: thank you, Lower Silesian Stronghold!
Regressus Ad Uterum opens with the short same-called intro – an introduction that defines martial excellence, through orchestral ambience and bombastic majesty. But the story only begins as from One Sword, One Voice, representing the purification of Pagan-Black Metal in its purest form. It truly sounds like East-European epic grandeur, spiced with marvellous keyboard parts, a Nordic-oriented sound quality, and quite some injections from the Teutonic Thrash-scene. It is remarkable, once again, how easy it seems to combine blasting speed-assaults with epic decelerations, and how natural it is to find an equilibrium in between integer passages of pride and ease at the one hand, and fierce eruptions of hatred and disgust at the other.
Regressus Ad Uterum for sure isn't the most renewing effort at all, but it does maintain the purest elements that one needs to get satisfied: lyrics, sound, performance, whatever. This recording isn't but a pleasure to listen at, no matter if y… No, no matter at all; this EP is !!!