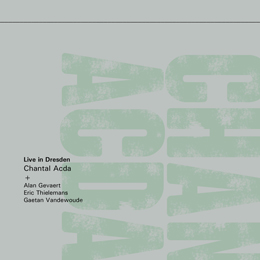 Release Date:
Monday, September 15, 2014
Born in Holland during 1978 (you do your own maths as to her age), the new in Belgium (Antwerp, actually) residing Chantal Acda was previously active with the band Sleepingdog, which released three affectionately received albums (2006's Naked In A Clean Bed, 2008's Polar Life, and 2010's With Our Heads In The Clouds An Our Hearts In The Fields, the latter including a close working relationship with Adam Wiltze of Stars Of The Lid, and A Winged Victory For The Sullen fame). During 2011, the band toured with Low throughout the Benelux and the UK, and then came a time for change...
You see, during the same time as playing shows with Sleepingdog, Chantal had also been a constant on-stage presence with Isbells, and was one-half of True Bypass, a duo with Craig Ward, and playing in these various bands had made her aware of the patterns that we all, as humans, share in. So when the time came to start working on material for her first solo album, she intentionally sought out kindred spirits with whom she might record the album. The first to cross her path was Nils Frahm, a German pianist and producer, whom was a perfect match for Chantal's project. Another musician she immediately felt good about, was multi-instrumentalist Peter Broderick, known from his solo work and from his work with, among others, Efterklang. Having worked with Chantal as a member of Sleepingdog, cellist Gyda Valtysdottir (from the Islandic band Múm) was a next natural candidate, and although Shahzad Ismaily actually fell into the picture by chance, he and Chantal formed an instant rapport the moment they were in the same room. With these people to back her, and with Frahm (whom played throughout the album) also acting as producer, Chantal was able to record her solo album in full freedom, knowing that each contributor would also find its place in the whole.
Well, with Let Your Hands Be My Guide being released on August 3 of last year, Chantal felt the need to perform her music in a live setting, but with the artists working on the album not being available for touring, she had to look out for replacements, and found those in Alan Gevaert, Eric Thielemans and Gaetan Vandewoude. Following a try-out show in Antwerp on Halloween, the band then did a 4-day tour in Belgium in November, tagging along with Nils Frahm (meaning the latter could also be part of Chantal's band, I guess?). Throughout the first part of 2014, Chantal and her band continued to play the occasional show, and during April they went on a somewhat longer tour which included quite a few shows in Germany (among which the one in Dresden's Societaetstheater, where they recorded this live "EP"), plus a couple of extra shows in Holland and Belgium. Since then, Chantal also took her music over the Channel for a couple of shows in England.
With only 4 people in the band, you might imagine the music to be slightly stripped-down (I have no way of knowing at this moment, not having heard the studio album), but that only makes the whole the more intimate, I guess. Of course, first of all, there's Chantal's soft vocals, which already make for an immediate intimacy to start with, but all other instruments (guitar, drums, extra percussion) are geared to enhance that brittle overall feeling of the music. And now here's a funny thing: the 6 songs present here were all also on the album, albeit in shorter versions, and these live versions add a good 17 minutes of listening time to the original versions.
For your pleasure, try to find the differences between the studio and live versions, by checking out the albums' pages at Bandcamp.com, where they are both posted. Oh, for those wanting hard copes, let it be known that the EP was released on a limited rotation, coming in a handmade, letter-pressed silkscreen sleeve. For those preferring a live entourage to discover new acts, know that Chantal and her band will be paying select shows, the data for which you can find at (www.) chantalacda.com (where there's also a video clip for the album track "Arms Up High").