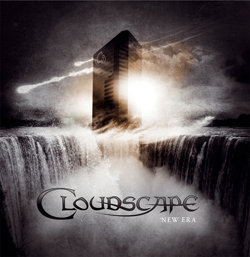 Release Date:
Tuesday, September 11, 2012
I own the first two albums of Cloudscape, 'Cloudscape' and 'Crimson Skies', but seem to have missed their third release 'Global Drama'. Now I'm picking the trail back up with their fourth release 'New Era'.
What Cloudscape bring us is heavy metal, with strong progressive influences.  If you've grown up with classic heavy metal, like I have, I think you'll like this album.  It's got strong vocals, good songs, catchy, and even sounding more like traditional rock at times.  The third song 'Kingdom of Sand' opens with oriental influences – think of band like Myrath. The songs on the album are very diverse in nature, but some way or another they seem to fit together to form this great sounding album, that features a good mix between semi-ballads, and more powerful material. So despite line-up changes, Cloudscape have once again come up with a very good album.