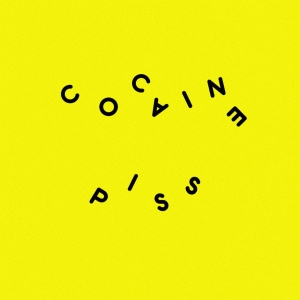 Release Date:
Tuesday, February 17, 2015
Sometimes it's quite strange, but more than once I seem to receive material that is not really my 'dada'. It is not a problem, for I try to be open-minded, and if the band or label deserves some additional promotion, I am always glad to be of help.
But there's a limit to everything; even my legendary patience can't cope with everything. Let's take the debut EP The Pool, for instance, by Liege-based act Cocaine Piss. It's a re-interpretation of tracks that mainly made it to their demo cassette In Dogs We Trust, originally released in 2013, done via our own Hypertension Records on etched vinyl, and being limited to an edition of 300 copies. It includes, by the way, stickers and balloons, believe it or not…
This four-piece, with a female singer, brings quite classic Hardcore-Punk stuff with that don't-f*ck-with-me-or-I'll-f*ck-you-attitude. Twelve 'songs', fourteen minutes in total, it means trouble! And my 'problem' is that I usually am not that much into this specific kind of noise. But you see, sometimes one can be surprised the positive way, for Cocaine Piss are not just another Street Punk clone or a bunch of Garage Rock-loving football hooligans. No, as from the opener Pigeon this band knows to impress undersigned.
Pigeon is a massive killer track with grandiose guitar lines, a prominent bass position, and those remarkable female shouts, but striking too is the structure, despite being a very short song (one minute of length). Waiting, and that goes for several other songs too, is based on some simplistic melody riffs, spiced with an energy that used to characterise top-acts like The Exploited, Dead Kennedys or Sex Pistols (I am talking about the energetic comparison; Cocaine Piss are NOT a clone of any of these bands), and whole the time pushed forward by the voice of Aurélie. Seriously, she's unique, she's on speed! Quite cool too is the great variety in 'melody'. Okay, sometimes it sounds like a funny Ramones gathering, but the band includes elements from Southern / Stoner, NYHC, Crust and even Grindcore, as well as moments of hilarious outbursts (check the titles and you'll notice not to take these guys, and girl, too seriously)
Apparently their popularity is quite enormous, for the quartet gained a huge fanbase, especially when playing live, despite these songs being the only ones they've ever created. …until now… What's more, they recently entered the studio to record new material with no one else but Steve Albini behind the panel (think: Pixies, Nirvana, Neurosis, The Breeders, High On Fire, Helmet and many more!). It will be released, probably, in September 2016, and a first single will be available very soon via Hypertension Records … Until then: anarchy! Rebellion! Destruction!