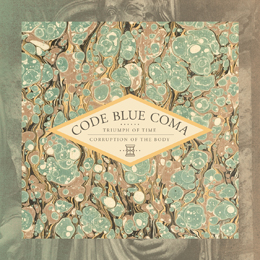 Album Title:
Triumph Of Time / Corruption Of The Body
Release Date:
Friday, November 29, 2013
Gee...goin' on the enormous discrepancy of info on this Mönchengladback based German Hardcore act on the Internet, one would almost think they prefer to stay in anonymity. Not really a good way for a band to promote itself or, as more in tune with the Hardcore scene, to disperse your messages to a maximum of possibly concerned/ sensitive people!
So...what dó I know? Well, the members' names are Mathias, Artur, Olaf, Nico and Dave...but I have nó indication of whom plays which instrument. Some of them at least have been in bands before, the info sheet which came along with the download promo of the EP citing Hollow Sons, Within Walls and All Aboard as such connections (again without mentioning whether the connections still hold, or are indeed broken). What else do I know? Well, the guys have a chip on their shoulders, or rather, they are deeply concerned with some very important issued, like the human approach to its environment, its violent outbursts (both physical and psychological), and its overall lethargic herd mentality toward life and how to live it. In other words, in what they feel is a uniformed, dreary world, they grasp out for creativity and enthusiasm in order to satisfy their insatiable hunger for something more than the prefabricated standards in sounds and words. The band recorded the 6 songs for its debut EP in August-September of last year at Köln's The 79 Sound, with engineering and production coming from one Christoph Scheidel, and then had it mixed an mastered by Jack Shirley (darn...where hàve I heard that name before, eh?) at his Palo Alto (California) based The Atomic Garden.
Now let's check the band's music itself...which you can do also, because the EP is posted in its entirety at (http///) codebluecoma.bandcamp.com. What you'll hear is a somewhat Progressive Hardcore, including some Doom elements in the slower opener "Honestly, I Will Lie Again", but also incorporating nice tempo changes and breaks...which eventually force the listener to keep his attention in focus with the musical offering. I guess that focus will eventually lead the listener to also take notice of the lyrics, and the messages encompassed within. According to the info sheet, the band also longs to communicate and bring some vitality to the outside world. Well...the still have something to learn there, because in order to make things interesting, you need to be visible, make yourself known on all sorts of media, flood those with trivial info in order to keep the buzz going! In fact, goin' on the support of the label is far from enough, see? Well, with thàt chip now off my own shoulder, I'll add that the guys incorporate short rap parts, but that the singer otherwize uses a scream-shouted type of vocals, as one might expect from a Hardcore band.
Make the sum, and what you get is a band of which you'd actually like to hear more of! CBC apparently had a good guess of how their music would come over, because once they had canned their EP, they criss-crossed Germany for weekend tours and shows, taking every opportunity they could get to let themselves be heard. Well, what with the EP now out for...for four months already...I hope the guys find enough time in between shows to write new material, to be found on a full-length album released somewhere in Autumn/ at the end of 2014, hopefully?