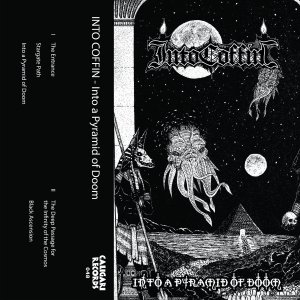 Into Coffin are a three piece from Marburg, Germany, formed in 2015 when Death / Crust act Infuria (they actually originate from Italy) got into line-up troubles. After a demonstrational recording in 2015, the band did record five tracks, which got gathered under the banner of Into A Pyramid Of Doom. It gets released on pro-tape in an edition of 150 copies via Caligari Records, but there is a CD-edition as well, released by Terror From Hell Records.
Into A Pyramid Of Doom consists of five tracks, amongst which one that lasts for more than ten minutes, and two that clock around seventeen minutes. Side A starts with the shortest piece, The Entrance, which opens with quite an atmospheric and melancholic, and at the same time far-distantly cosmic introduction. At about half of this piece (it lasts for 4:14 minutes), the basics turn towards rather Doom-laden drones with some post-apocalyptic dimension in both sound and execution. Stargate Path (clocking almost six minutes) shows this band's raison d'être. The track stands for quite uncompromising, anti-trendy and extremely morbid Death Metal from the Old School. And it comes with all necessary ingredients: a monumental rhythm section (once again I am truly pleased by the drum parts!), filthy, gurgling grunts, a perfect balance in between fast and slow passages (the transition is oh so fluent and natural) – even the sound quality refers to the scene from two – three decades ago. And I'd like to come back on the latter, for it has two faces. At the one hand, the production is low-tuned, rough-edged and nihilistic. It lacks of modernistic ornaments or clinical tidiness. At the same time, however, there is no reverb / feedback, no background-noise, no primitiveness as if the stuff had been recorded in some rusty container of humid cellar. Actually, the overpowering heaviness for sure attracts!
But I'd like to come back on the tracks. Side A ends with the title track, which truly is a monster of a Doom-Death Epic. It's like Autopsy, Bolt Thrower, Fuoco Fatuo, Portal, Ancient Crypts, Ævangelist and Necros Christos joining forces, in order to express 'heaviness' by means of sonic craftsmanship. Well, they do succeed! The atmosphere is so violent, ominous, asphyxiating; it's like this track sort of expresses the aural identity of the morbid, semi-Lovecraftian and deeply grim occultism and obscurity going on.
About the very same goes for both pieces on the second side of this tape release. The Deep Passage For The Infinity Of The Cosmos and Black Ascension sort of follow the basic structures and atmosphere of the title song. The first one (which clocks over seventeen minutes) starts off with a mostly creepy introductional riff melody, which sort of open the gates of a Lovecraft-dimensions, like an omen for unnamed creatures crawling out of secret pyramids from the Abyss (I feel somewhat poetic, apparently). This composition too has so many levels, so much to experience, but it isn't over yet, for Black Ascension might seem even greater in both song writing and performance. Initially this piece (11:28) starts quite droning, the low-tuned way, and especially funereal, and in one way or another, especially when the vocals join in, it reminds me, how strange it might seem, to some totally-decelerated edition of Axegrinder or Saw Throat. All hail the War Machine! But this epic has so much more to offer: the wonderful intermezzo as from the third minute (hey, is this creepy or not?!) with some semi-progressive drum patterns (no, not the kind of 'Progressive' that characterises modernistic idiocy), the blackened atmosphere (the faster excerpt at half of this track truly brings some blackish attitude), or the (very short) outro (evidently at the end).
In conclusion, I shamelessly dare to say that Into A Pyramid Of Doom is one of the better releases within a scene that is enormously strong and influential since a couple of years. The so-called Morbid Death genre did bring several hands full of splendid material lately, and Into Coffin are a new name we have to add within that list of Eternal Glory. The sinister elegance is indescribably huge, and therefor Into A Pyramid Of Doom is much more than 'just a recommendation'. It's a must!