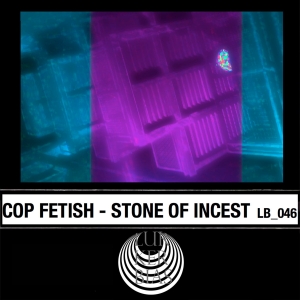 Two years ago, Cop Fetish, a project by a guy called Jeff Williams, originating from Olympia, State of Washington, uSSa, signed to Lurker Bias with the aim to release his first recording under the Cop Fetish-moniker, Transuranic Waste. That tape was (and still is) a monster of a release! The label involved is specialised, especially, in (Harsh) Noise and related genres, but once in a while they come up with a more subtle and less harsh release, and that was the case with Cop Fetish's Transuranic Waste. So I was wondering about this second release via Chicago-based Lurker Bias; actually this release belongs to Lurker's faves, so I did not doubt one single minute to write some words about it – hopefully the combination of these words, and the right order of those words, will create phrases that might make some sense… (???)
Based on some poems of German-Romanian author Paul Celan, Stone Of Incest compiles four lengthy pieces, all of them clocking nearly a quarter of an hour (total running time: about fifty-eight minutes). The recording opens with Tomb Complex, which starts quite dark and ambient, soon joined by little tribal percussion. After about four minutes, everything seems to fade away in a distant silence, yet of a mostly horrific and ominous kind. Eerie sounds drop in, and slowly, very slowly, this breath-taking emptiness progresses. After more than eleven minutes, you can enjoy some weird acoustic strings too, accompanying the trancelike synth layers, as if they want to tell a story about loss, grief and loneliness. Burning Earth, the second piece, is a dreamlike Drone-Ambient composition, long-stretched and somewhat astral, with some additional sound injections – the latter strengthening the oppressive character of the atmosphere. Despite a certain minimalistic execution, there are quite some layers. Very attractive too, I think, is the sudden Harsh Noise excerpt at the beginning of the last third of this 'song', defining the fierceness of the project's concept. That very same conceptual attitude reappears in the third creation, Teenage Self-Mutilator. It is an expression of pain, disgust and escapism, defined through hypnotic and suffocative synth manipulation. Until about nine minutes, a bewitching background melody gets enriched by shrieking-noisy sounds, taking the listener to a dimension where happiness has not been born yet. Towards the end, acoustic guitars amaze with their relative calmth, but that isn't but a means to betray the gullibility of the naïve human brain. Yes, be sure of that! Right To Be Forgotten, finally, is another creation that holds the middle in between meditative transcendence and harsh roughness. Once again, it gets proven that Dark Ambient and Harsh Noise can cooperate as in an unholy marriage. This project (and the label involved) is such one that goes deeper into the essence of both genres, melting the better elements of both into a majestic spell that will befuddle the listener.
Message: check out this specific release, the project involved, and make sure you visit this label's mighty roster.