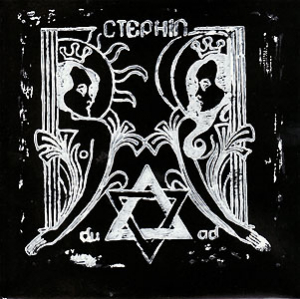 Release Date:
Friday, February 28, 2020
Driven by a vision to support the Underground, I am open-minded in a sense that I do not limit myself to review new material only. Most labels I am working with do know that. And more than often I get in touch with an older release that is simply worth being experienced. In this review's case, I want to refer to the fabulous – yet way too underestimated – label Drone Records, and the Ctephin release DUAD.
[FYI: I did some more work for this grandiose label, and its sub-labels, in the past; check out reviews by bands or projects like Ure Thrall, Troum, Nam-Khar, Bass Communion, Kevin Durr, Aidan Baker and many more; and more are next up to come]
DUAD is a two-track single, dedicated to Heaven and Hell, because 'I am divided for love's sake, for the chance of union' (taken from Liber Al vel Legis). This Umbrella Noize Collective does sort of follow the law of liberty like being explained / stated in Liber Al vel Legis, and that is exactly what the concept deals with.
DUAD got released on vinyl (at least my copy is) with a two-folded cover, without lyrics or additional info (who needs that?), yet with that teasing mystery behind the concept. There are (were) three-hundred copies on (marbled golden) vinyl with handmade covers. It also includes a one-side-printed red inlay.
Both tracks, called [heaven]: Beatific Vision and [hell]: Precipice Of Origin, are multi-layered sonic experiences, combining elements from different yet related sources: Noise, Drone, Ambient. At the same time, this material is hugely atmospheric, even melodious, harmonious and organic. Offering an enlightening view on their concept, Ctephin create intimacy and introspection too. Yet then again, and that's a wonderful duality, the permanent injection of crackling noises and disturbing sounds shows the opposite: a darkened view this time, a negative vision of mankind's destructive, apocalyptic nature too. And I think this duality, this balance in between isolationism and interaction, in between good and evil, in between Heaven and Hell, just works.
Purely auditive, both pieces mingle metallic sounds, field recordings / samples, acoustic and electric guitars, percussion elements, droning ambience and some more effects and elements. It makes this EP somehow original, with 'Thelemic Light Drones and Drone Lights' as file possibility being a nice approach. Noise Light to Light Noise is, I think, also a fine description (I did steal these definitions from the label's website). Seriously, this difficult duality is hard to achieve, but Ctephin somehow succeeded to offer a monumental result that withholds both divinity and grimness.
https://www.dronerecords.de/album.view.html?album=12074