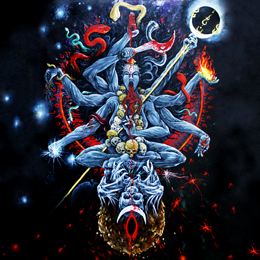 Release Date:
Saturday, November 30, 2013
Something of a surprise from the Czech scene, Cult of Fire mix some notable ferociousness of their own into the typical black metal formula.
The sound of their second long player is not too far from the usual occult standards as far as song writing goes, but the venomous vocals, sitar, piano and vicious eastern attitude add a genuine touch to the music, being sometimes reminiscent of Nachtmystium, Oranssi Pazuzu, Darkthrone, Melechesh and Nile with a similar rough quality. In addition to this hint of unorthodox influences, the music is at least semi-creative; decent riffing at a decent pace, fortunately with good enough production values.
Although these 4-7 minute tracks do not necessarily possess truly memorable characteristics, the album on the whole provides a fair dose of intense bashing - while it may sound like a cliché, you could actually choose a lot worse than this.