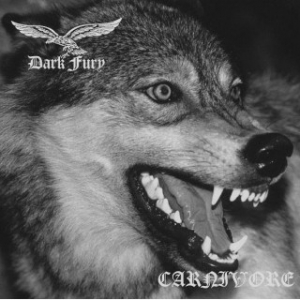 For almost two decades, Dark Fury bless our sacred homelands with their dark (aural) fury (that was an easy one to start with). It's  one of the projects with Lower Silesian Stronghold's owner / runner Krzystof, a label that did surprise me enormously lately (click on the label's name on top of this review to check out some other material kindly provided by them). Amongst the (many) reviews, you can find some others on Dark Fury-material, like their latest full album, Synningthwait (to make it easier: posted on July 21st 2014), and pretty soon I will have a review written on the (highly interesting) compilation Semper Fidelis as well (stay tuned).
This review, however, deals with something extremely interesting because of two reasons (besides the sonic / lyrical raison d'être, of course). First of all Carnivore is a re-release, originally recorded as demonstrational stuff in 2004. It was released on CD-r in a limited edition, and apparently it appeared on tape as well, included as bonus for the Vae Victis! album, which got released shortly after. Now, and that's the second honourful thing I want to mention, it comes on vinyl, with the four tracks nicely and neatly departed over both sides of the EP (33⅓ RPM). [note: Lower Silesian Stronghold did some vinyl-stuff before]
Frontman Raborym and drummer Wrathyr (the latter was a permanent session / studio member around that period) did re-interpret the stuff during the years 2013 and 2014, and that's clearly audible, i.e. the mighty sound quality of this stuff. For those who are trusted with Dark Fury's material, well, expect the same kind of stuff; for those who are not (yet), please pay attention. Their Black Metal of a melodic and epic kind, yet with quite a furious energy, a timeless execution, and a mostly grim and hostile atmosphere. You can easily hear that these pounding compositions are filled with pride and conviction, and in combination with fine song writing, the result is remarkable and memorable!