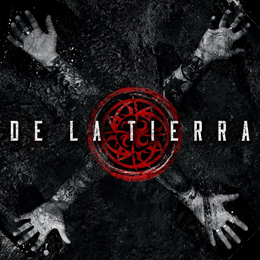 De La Tierra is a Latin American super metal group formed in late 2012 by Brazilian guitarist Andreas Kisser (Sepultura), Argentine singer/guitarist and bassist Andrés Giménez (A.N.I.M.A.L.) and Sr. Flavio (Los Fabulosos Cadillacs) and Mexican drummer Alex González (Manà).
The foundations of the group were laid down around when Andrés Giménez and Alex González began discussing the idea of forming a band together, eventually bringing in Sr. Flavio to play bass in 2011 and finalizing the lineup in 2012 with the addition of Andreas Kisser on lead guitar.
After self-producing their album in several different locations across South America, the group signed to Roadrunner Records.
First I would love to say that I'm glad that this isn't a Sepultura clone. Nothing wrong with that, I'm just glad that Andreas (and the rest of the band) shows how versatile they are. The downside to this gem is that it's all in Spanish witch isn't a deal breaker, but it would be nice to understand what they are singing about. Apart from that this is a nice record that's worth checking out.