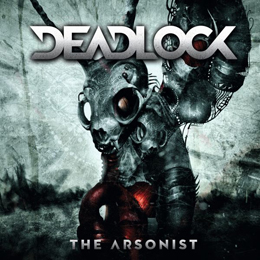 Ladies and gentlemen, Deadlock is back with a new album, which goes by the name of The Arsonist! These melodic metallers from Germany have been making music since 1997 already. It was only with the addition of vocalist Sabine Scherer in 2004 that the band achieved its current status, stepping back a bit from the pure hardcore metal influences and adding some more melodic parts to the music. Sabine's soft voice stands in grand contrast with the brutal male vocals, but this is the best trump the band has.
Despite the fact that the band has been around for quite some time, The Arsonist is only Deadlock's sixth full length album. Two band members left the camp and Sabine has got a much stronger role in the band.
Songs such as The Great Pretender, I'm Gone and As We Come Undone really show what Deadlock stands for nowadays. It's really hard to put the band in a certain box with this album. It's metal for sure, but we can clearly distinguish some melodic parts, next to some death metal, electronic music, metalcore and much more. It's now your task to find out yourself.
Lend your ears to The Arsonist and be guaranteed to like it.