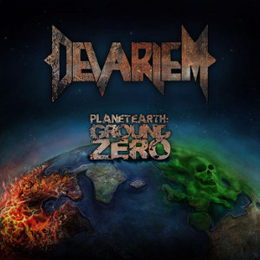 Album Title:
Planet Earth: Ground Zero
Lübeck (North Of Germany, situated some 65 km NW from Hamburg), May 2009 : guitarist Benjamin Botev decided to found a band which would bring both brutal yet never too simple Thrash Metal. For his initial accomplices, he picks singer Dennis Schwartz (then just recently departed from the now defunct Thrash Metal act Smoking Valves), a bassist known only as Björn, and a drummer denominated as "Pit". "Initial accomplices", meaning changes were due in the line-up later on.
At a pretty early stage of their career, the band managed to play support gigs for the likes of The Sorrow, Bloodwork, Arkona, and Tyr, and the band also got into a studio pretty swiftly, recording the song "Payback The Price" at the LSD Studio (known from having been hired by Alestorm and Svartsot before) in January of 2010. Then, apparently, came the first line-up changes. At first a slight one, with the addition of Alexander Lengde as the lead singer, and Schwartz picking up the guitar again (as he'd done in his previous band). Later in 2010, the original drummer left, and to replace him the band recruited Joe Müller in early 2011. Around that same time, the original bassist also decamped, and he was replaced by Ben "Papst" Jerkel (whom had been the original lead singer in Smoking Valves). Later in 2011, the band apparently also recruited drummer Maik Weinhardt (also a member of Hamburg-based Melodic Death Metal/ Metalcore outfit Killfloor Mechanics) to fall in whenever Müller would not be available. 2011 was also the year when the band returned to the studio to record their Peace Was Never An Option EP with Lasse Lammert (of Alestorm) during April.
The debut full-length was recorded during Autumn 2012 at Hammer Studios with Eike Freese (of Dark Age, Gamma ray, Negator, Callejon fame), and sports new bassist Jan Schütz, whom has since already been replaced by one Dario Rosello. The end result is an attractive album with elaborate riffing (which is at the same time catchy and non-devoid of some progressive touches), pounding drum fills, and agro vocals, a combination which should go in very well with our editor-in-chief, whom is a Thrasher at heart (and still, although the years have mellowed him down a bit to like softer stuff as well!). The label puts it down as music for fans of Exodus, Exorder, and Machine Head...and that, for once, is an assessment which I will support to the fullest! For our audio introduction to the band, there's a couple of songs off the album posted at (www.) facebook.com/devariem (two, actually, with 2 extra non-album songs), which is also where you'll find some videos. The band also has a page on MySpace, but of course I have no idea what's on there, as I cannot get onto it with my non-updated network PC!