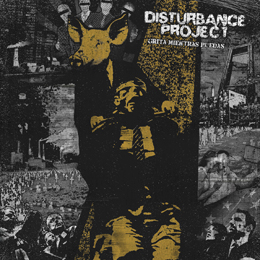 With this album our editor-in-chief again unloaded a truly great Grindcore act into my to-do box...and that had been a while...but then Madrid-based Disturbance Project are of a quality to equal that of its legendary fellow countrymen Machetazo.
Since I had no bio beforehand, I decided to make one of my own, so here goes : DP was founded in 2003 by guitarist Alvaro and bassist Gerardo (whom today can count tenures with Denak and Andamio on his activities sheet), and that same year the band released the 4-track demo Grindcore Inferno (which featured three covers and only one original track). Was this rather a release just for fun, or where the band members occupied otherwize?...I don't know, but it would take 'em until 2005, before the band began a series of split releases, starting with the split Lives Before Profit/ Todos Te Engeñan (released through Undislessed Records) with the Polish Rabies, on which DP had 5 tracks (of which two had already featured on their debut demo). 2006 was slightly more productive for the band, finding 10 songs (of which yet another came of the demo, with one more again being a cover) placed on the Condemned To Extinction split release (issued through Vomit Noise Records) with scene veterans Subcut; and 4 more on a split 7-inch with P.L.F. (of whom I recently also reviewed an album) issued through Psychotherapy Records.
A short break from releases ensued (most probably due to a line-up change?), but in 2008 the band again returned with two split releases, the first with Terrorismo Musical (5 new tracks on an independent 7-inch release), the second with Plague Rages (11 tracks on the The Screaming Nightmare album issued through Grindhead Records). Then the band gets I touch with Polish label EveryDayHate, whom as a first installment to their collaboration releases the compilation Mediocridad Extrema in earliest 2009. Featuring a total of 33 tracks, the album compiles all tracks of the split releases with Rabies, Subcut, and P.L.F., as well as those (5 of 'em) on the then still to be released split with Fistfuck (issued through Outrageous Defecation in March 2009), 3 off the Plague Rages split, and an additional 5 tracks which were unpublished before. In 2010 then, the band released its last split thus far, the Minima Esperanza En Un Mundo Ciego, done with the band RAS (whose singer Raul was then probably also acting that role in DP) and issued through EveryDayHate, adding 11 new songs to their catalog.
Over the years, the band has gone through occasional line-up changes, until in 2012 Alvaro and Gerardo were joined by Vomitando Bilis members Alvaro (vocals; DP's 4th in that position) and Nico (drums; taking over from original skinsman Juan – also active with Lurking Evil), and it's with thàt line-up that the band decided to re-record some of its split releases' songs! So, off the split with Rabies, there's two songs...of the one with Subcut, there's five...one only off the P.L.F. split...and two off the one with Terrorisma Musical...no less than six (6!) off the split with Plague Rages...three are off the Fistfuck split...and finally no less than 7 are off the split with RAS. Add to that, one of the exclusive tracks on the band's previous compilation album, and a completely new intro (nothing more than some screening of radio programs, really...but it works for me!), and you have yourselves a 25-track album recorded between late 2013 and early 2014...which you will run through in less than 21 minutes!
Well yeah...this is Grindcore baby, and so what you get is short sharp speedy tracks, with some variety nevertheless (in spite of the almost constantly pounding drums and pummeling bass), and with actually twó singers, one using a low grunt while the other screeches his lungs out. For your introduction to the band or, if the case be, to the genre (I recommend this band as one of the better in their style), you might check out their MySpace page...but I have no idea what's on there (same ole problems with the network PC, you know!), but actually you have a possibility to check out the complete current compilation at the band's facebook page [correct address (www.) facebook.com/pages/Disturbance-Project/112049098881418), where in the "Music" section you are re-directed to the album's (and in connection to other stuff posted there) on BandCamp. For those among you who prefer videos, check out what's posted at YouTube (link on the band's facebook!).