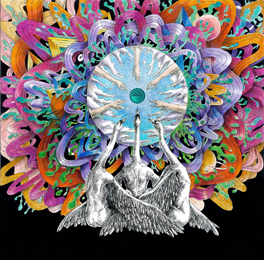 Woah...what a great act, this Domovoid! Imagine what might happen if a singer/ lead guitarist raised on a daily dose of Hawkwind, and a rhythm guitarist/ keyboardist whose main course was a consequent package of Black Sabbath, would come together on a friendly basis to start playing music together...that's what this band sounds like...for real! I other words, what you get here is the heaviest Psychedelic Rock, subgenre Space Rock, you have ever heard!
The band comes from Seinäjoki in Finland (a city with some 56,000 inhabitants in the Southern Ostrobothnia region, which originated in 1798 around an iron and gunpowder factory which was erected there, and which is situated some 360 km N by NW from Helsinki), was founded in 2010 and consists of the nutheads (a term to be used with feelings of endearment in this case) Oskar Tunderberg ("responsible for "clamor and low frequencies"), Niko Lehdontie ("oscillations & low frequencies"), Dmitry Melet ("lower frequencies") and Alex Solimei ("pulse"). From those wacky job descriptions, I take it that Alex is the drummer, Dmitry the bassist, and Niko & Oskar the guitarists who have their instruments down-tuned somewhat. Additionally, Oskar is the singer, and Niko brings in the occasional keyboard/ synth sounds. Actually, the band's original name was Potbelly, and it's under that monicker that the foursome released its debut demo, the 4-track Promo 2010, in October of 2010. Changing their name, the guys lost little time to go into the studio again, and by May 2011 released their 6-track Mythonaut EP (which nevertheless had the respectable length of 34 minutes, you know...an somehow I get the impression that it was some kind of music school assignment; what with the EP having been recorded at Kaustinen College Of Music, you know...!).
Meanwhile, Domovyd's been doin' its regular shows in Finland (they also released a one-track single entitled Mammoth – a track featured on the Potbelly demo), and eventually developed 6 new songs which they recorded for their full-length label debut on Svart Records (I'm really beginning to like that label for its diversity, you know!). All songs off the album, as well as the previous releases, can be listened to at (http://) domovoyd.bandcamp.com, and with the above generalisation of the band's sound, there should be enough anticipation in the air for lovers of that kind of music to immediately shift over there, and have themselves an helluva good time! Personally, I love this...in fact, having come across this type of music way back, I don't think I could live without loosing my sanity, if I didn't get a regular dose of this type of music now and again...and so you see my reasons for nominating Oh Sensibility into those "Best Albums Of 2013"-lists of mine are purely selfish!