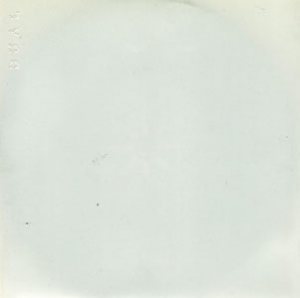 Dual is (was?) an outfit by Doncaster-born sound artist Colin Bradley, who you might know from his assistance with Splintered or his activities in Bark Psychosis too. He started this solo-outfit somewhere in the mid-Nineties, with some recordings done during the second half of the Nineties and the first half of the 2000's. Then things turned into silence, but the project never officially split up, to my knowledge, despite no more recording activities going on. But that's another issue…
Klanik / 4tH was initially released in 1999 / 2000 as part of an extremely limited vinyl series. In 2005, the fine Drone Records label re-issued the 7"EP on white vinyl, including white printed inlay stuff with almost hidden information – truly fine to undiscover – and hand-stamped / embossed sleeve cover.
Side A brings Klanik, with electric guitars used as main instrument to create the overall aural ambience. It's a 'naturally flowing' track (listen and you'll understand), including some percussions (also created on guitars, I think), which enrich the static and repetitive basic melodies. The monotonous, somewhat slender basement has something hypnotic, transcendent and even psychedelic in a mostly dreamlike definition.
4tH, the B-side composition, comes with little more experiment, especially when noticing the Musique Concrète sound collages and fractured feedback. This piece builds up, slowly yet steadfastly, with added rumbles and noises. It sounds almost ominous, asphyxiating.
This short EP is a nice example of eccentric yet still recognizable guitar-based Drone Music, exploring those dimensions that come close to, and sometimes overlap, the traditional Drone scene. It is monotonous and simplistic, and at the same time so rich and abundant, and therefore a provocative challenge (yet a worthy one!).