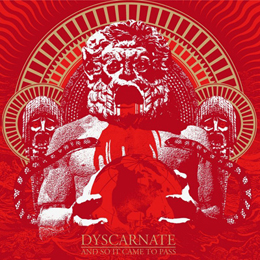 Release Date:
Monday, February 10, 2014
Dyscarnate an English band founded in Horsham in the year 2004. Current members are Henry Bates (Bass, Vocals) Matt Unsworth (Drums) and Tom Whitty (Guitars, Vocals). A band playing death metal with a lot of hardcore influences.
"And So It Came To Pass" their third album. Made in 2010 "Enduring The Massacre" and in 2012 "So It Came To Pass". First song ""The Weight Of All Things" This is a track that fulfills all the requirements to open an album and a huge concert. The beats are plodding enough to get a pit or a lot of jumping crowd. A pitty that the song is no longer than 2 minutes. I liked the first song but from than there is to many vocals and lyrics so the music, bass guitar tones are inaudible. The drums are stuck in a 4 strokes per drum and nothing else. With to many vocals you miss the depth of the musical sphere. A pity because finding a mix between death Metal and Hardcore is not bad, but is not in balance. Maybe next album keep searching something real to make their sound spicier.