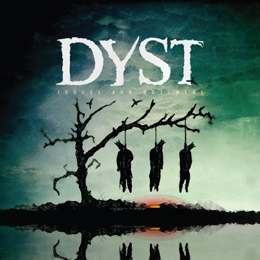 If there's one thing that gives me slight creeps, it's Mister Bieber. Next to that, you have emo metalcore. The Norwegian band of Dyst describe themselves as such a band. However, what they bring is far from the childish thing I first had in mind. This young band seems to be really grown up musically.
With their debut album, Judges and Butchers, one thing is clear: vocalist Joakim Vindenes sings with so much bitter emotion that it's hard not to wonder whether his voice will pound through the speakers or not. The production of Judges and Butchers is beyond excellent, thanks to mastering heroes such as Tue Madsen and Tommy Akerholdt. The music sounds incredibly good, but Dyst doesn't quite meet the promise of being mind-blowing. After fifteen minutes, I'm still quite relaxed and I'm not really anxious yet to go out and fight the unfair bieber dominated world. The tracks are varied, but it's not wonderfully refreshing.
All in all, Dyst have come up with a more than decent debut album. Judges and Butchers won't break bones, but it won't leave you unharmed either.