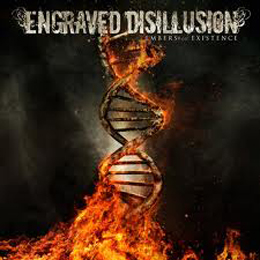 Following experiences in other bands (I only have actual info on one of 'em, really – see further), singer Chris "Box" Pugsley and guitarists Marc Matthews & Toby Stewart (both play lead as well as rhythm guitar parts; the latter was in Awake By Design, but I doubt he contributed to the 2 full-length self-released albums of that band) came together in 2008 through their mutual love for and understanding of Melodic Death Metal.
To complete the line-up, the guys recruited drummer Chris Threlfall and bassist Luke Douglas, and in that constellation recorded their 3-track EP Desolate, which they self-released in June of 2009. The Taunton & Wellington based band gained a local reputation (Taunton being the larger town, situated roughly in the middle between Bristol in the North and Exeter in the South) for its live set, and in 2010 exchanged Douglas for current bassist Matt Thomas. Thanks to allowing people at one point to download the EP for free, the band's reputation eventually grew beyond the local scenes, with in positive feedback from fans and critics alike.
The band progressing fast, a full-length's worth of new material was written [with Stewart being the main composer, getting help from Matthews on 8 of the 10 tracks on the album, and the duo getting extra input on 3 of those 8 tracks from the drummer – lyrics came from a collaboration by Matthews and Pugsley on 5 of the 9 songs, from the band as a whole on 2 songs, and from the singer on his own on the 2 remaining songs (evidently, there's an instrumental on the album, namely the opening track "Wither Away")], which was recorded and mixed in a fortnight during November 2010 by producer Stu McKay.
Now, there's some controversy about when the album was actually released, as the info sheet mentions two dates. In the caption, the date is July 2nd 2012, but in the text, there's mention of November 2012. then, from another source, I gather the album was already released in June 2011! Go figure!? At any rate, also mentioned in the info sheet, is that the band draws influences from such bands as At the Gates, Black Sabbath, The Black Dahlia Murder, Carcass, Dissection, Unearth, Dream Theater, Insomnium, Candlemass, In Flames, and Dark Tranquillity...from which the band filtered its "...passion into a dynamic and powerful juggernaut..."! Simply put, the band plays a Progressive Heavy Metal based Death Metal, and has their singer throw a nice grunted growl vocal on top! The band has pages at Facebook, YouTube, and ReverbNation so, if Melodic Death Metal (with your "normal" rougher vocals) is your thing, you outta check out what's available there, get acquainted with the band! If I'm not mistaken, since the album's release ED has signed to Bored Stiff Records, a label apparently specialized in Death Metal, its other acts being Cambion, Codew Alimentarius, FuryBorn and Red Mist.