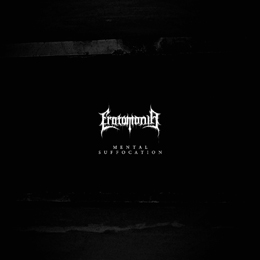 Eratomania were formed in 2010 by Galgrat and Surtur. Both of them were in B.A.H., and the latter is known from bands like Hammerstorm, Endless Sorrow or Lost Inside (amongst several others), and he's the guy too who runs the fantastic Belgian (Black Metal) label Immortal Frost Productions as well. In 2011 they recorded a demo-MCD, Mental Suffocation, before splitting up for a brief period. They returned in 2012 with some new members, and in 2013 Eratomania changed their moniker into the current one, Ars Veneficium. But that's another story…
This review deals with the sole official release done under the Eratomania-moniker. The demo was recorded by Surtur (v, d) and Galgrat (g), with session assistance of bass player Sir.chasm, who was part of B.A.H. too. It consists of three tracks, which have a total running time of sixteen minutes. Mental Suffocation opens with the title track, which starts with a cool semi-acoustic introduction, but after a while it turns into a slow and atmospheric Black Metal piece, creating a grim and somewhat desolate atmosphere. At the end, the initial semi-acoustic melody returns to have this piece ended in perfect closure. Within My (B)Reach too starts with such an acoustic introduction, followed by repetitive, melodic, depressive riffs, a structurally well-performed rhythm section (which strengthens the repetitive feeling), and raw, raspy screams. Such unhappiness really makes me happy! Once again, cf. the opening track, the acoustic opening riffing gets repeated towards the end of the epic. The mini-record ends with Lasting Days, which is the most intense (read: heaviest) composition. It's more up-tempo and energetic, yet still maintaining the repetitive, slightly nihilistic-minimal character of the other songs. It is the most epic piece too on Mental Suffocation.
The production is all right, but unfortunately nothing more than that. This kind of material is allergic to a modern production, but the sound might be somewhat too lo-fi. Discussion: is it good or is it not. Well, that's up to you. I think a clean / clinical production ridicules the essential roughness, but at the other hand the mix could have been more profound, more balanced – but that isn't but my personal idea. However, in general this recording is a masterpiece, and highly recommendable in case you like Black Metal from the most desolate, minimal and atmospheric kind.