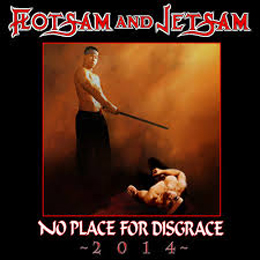 Release Date:
Friday, February 14, 2014
Flotsam and Jetsam founded in 1982 (Paradox, The Dogz). Present members are Kelly David-Smith (drums), Edward Carlson (guitars), Eric A.K. Knutson (vocals), Michael Gilbert (guitar) and Jason Ward (bass). These Americans playing power and trash metal.
"No Place for Disgrace" a record from 1988 they wanted to re-master the album. But there was a problem with the originals rights of the original recording and the rerecorded the album. They tried to approach the original sound with the newest technologic techniques.
"The sound quality is 100% better and more refined" they say. The only thing I can say that the quality is better but reinventing an existing album. I will not say that it isn't a great album but the original is much better! What you miss is the sphere and the pure sound of the eighties. No thanks.