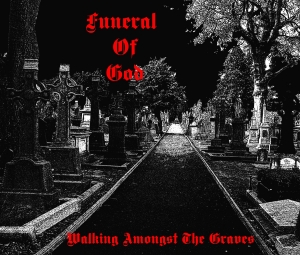 Album Title:
Walking Amongst The Graves
Recently I came along the quite unusual yet highly interesting label Merdümgiriz (nowadays based in London), which focus on Underground material especially, with releases handmade by one of the label's owners, Emir Togrul. On April 18th 2016 I published a review for Grimmdrasil's The Cold Haunting Loneliness Of Crushing Certainty, and the month before, on March 28th, I uploaded a review for the grandiose album …Of Doom And Despair, created by international act, yet Italy-born, Funeral Of God. For some additional information about Funeral Of God's former activities, I'd like to refer to this site's update of March 28th 2016. At this moment it's better to enter the band's or label's name in the 'search' tab, because we're still dwelling through impenetrable technical ignorance after Dirk's passing away…
Anyway, Walking Amongst The Graves is a new EP (on tape), released by Merdümgiriz. It was recorded by founding member Paolo 'Odio' Cerretini (all instruments) and Merdümgiriz' Emir Togrul (vocals and lyrics). All copies are hand-painted and self-printed by the artistic mind of Emir, like about all releases on this guy's label.
The EP opens starts the title track, opening with a very short introduction, a vocal sample from a source a do not know about (funny detail: the happily singing bird on the background). Quite soon, Funeral Of God show their true face: an ugly, heavily tortured, scarred one it is. It is not an easy task to describe this stuff, to put a label on this material. Quite much in the vein of Woods Of Belial, Urna or earlier Ævangelist, for example, Funeral Of God perform some sort of Morbid Apocalyptic Occult Industrial Funeral Doom Black Metal, somewhat mechanical at times, and quite ominous and spooky too. It might be less 'blackened' than the former full length release, especially because of the changement in vocal approach, yet at least it is as suffocating, focusing on aural discomfort and, at the same time, sonic satisfaction (the sadomasochistic way!).
Heavily distorted strings and a slowly-pounding drum computer interact in quite a sick way, yet the weird vocals make the whole even more perverted and unbearable. Indeed, don't we all crave for such mental terror. It results in a love-it-or-hate-it thing, but that's up to you – and to how much you can bear, how strong you can stand. I'm a brave boy, so I belong to the love-camp.
Anyway, those interested in stuff à la Ævangelist, Woods Of Belial, Goatpsalm, Gnaw Their Tongues, Sigihl, Urna or Chaos Echoes know what to search for! Be warned, be prepared!