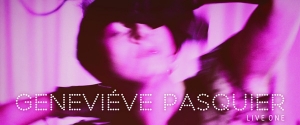 After quite a long period of silence, Geneviève Pasquier returns with a 'new' recording, including older live material as bonus. Last decade she did release some highly acclaimed albums, especially via Ant-Zen or UMB (the latter being run by herself and Thorofon / The Musick Wreckers colleague Anton Knilpert (nowadays known as Dan Courtman, if I'm not mistaken). Anyway, this recording gets released via Raubbau on tape, and this in an edition of 100 copies only.
As you do know, or not, Geneviève's solo expression differs from Thorofon sonic-wise, though it maintains the initial eclectic diversity for sure. With the A-side of Live One, being the studio recordings, she does not really reinvent her post-electronic approach, but for sure she strengthens the origins. The bigger part brings quite minimal Electro, quite danceable and trancelike yet not of the EBM-kind (like Today The Disco (Alternative Version), the remake Sharcactus made for Black Leatherette, or the sado-maso-outburst Recipe). Nice aspect is that the album does feature quite some elements from Noise and Industrial, cf. the additional sounds and samples (I Am Not Yours, despite being quite integer and even melancholic (!), is such a great example). With a track like Blitzkrieg Baby. Part 3, Geneviève does not hide a certain passion comparable to Gitane Demone and her Demonix project – same erotic elegance hanging in the air, and even recognizable vocal experiments… Some pieces are quite distinctive, such as opener Outback, which has a tribal, even ritual atmosphere of a mostly mesmerizing and haunting kind. 8 P.M. Daily News then again reminds me of the collaboration in between Deutsch Nepal and The Moon Lay Hidden Beneath A Cloud, for carrying a same-minded evocative character and a comparable dark energy in both performance and sound. Schizofren (Alternative Version) is quite something distinctive too, for rather being an expression of Black Industrial / Power Electronics than Pop-Electro whatsoever, like an invocation of Baphomet going on…
Side B is a registration of a gig she did in Vienna, Austria, on April 25th 2011, at the Rhiz bar. Here too this lady of Electro-Pop-Cabaret proves that her vocals (with an incredible expanded range) are sort of carrying the compositions, with the sounds being the energetic drive, the harsh support, the aural expression of the concept. The set was based on the softer side of Geneviève's electronic creations, though with quite some variety too, injecting the live experience with loads of kinetic power – cf. dancefloor monsters like Warm Leatherette (with quite some distortion, which is quite cool), Bouge! or Fusion (the latter also being quite comparable to Demonix, I think, especially by means of the seductive voices). Remarkable are pieces like Emmène Moi, for its fabulous equilibrium in between the integer, almost sorrowful atmosphere at the one hand, and the harsher samples (what great vocals, what a fantastic synth passages!), or the last bonus track, I Love You, with quite some noisy feedback, dissonant electronics and a new vocal angle: tortured screams from acid lungs.
Fans of 'different' electronic Music must pay attention, for Live One is quite unique in its genre. And seen the title, we might expect a 'live two'???