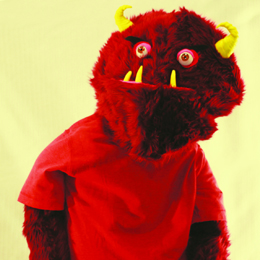 Whoopie, I just discovered a great Noise-Metal act with some previous material to get.
Canadian, Montreal-based Noise-Metal act The Great Sabatini (sounds like a name a conjurer, you know...magician...would take for himself, now doesn't it?) started doin' its thing back in 2007, and self-released its debut EP Burning Wilderness on Nov. 7 of that same year. Understanding that the way to "world domination" starts by stepping out of your own regional settings into the big ole' world, the band [current line-up consisting of bassist/ lead singer Joey "Sabatini" Cormier, guitarist/ backing singer Rob Sabatini, guitarist/ backing singer Sean "Sabatini" Arsenian (formerly of Violent Marv) and drummer Steve "Sabatini" Vargas (also of Biipiigwan, he replaced original drummer Will "Sabatini" Bustin in 2009)] started touring as soon as early 2008, playing gigs coast-to-coast in Canada for over a month in March, and putting in another weeks worth of gigs on the Canadian East Coast during September. Somewere in between, the guys found sufficient time to record and release their second EP, the 6-tracked Dial Tone.
During the first part of 2009, the band (still with Bustin – now with IRN – on the drums) recorded its debut full-length Sad Parade Of Yesterdays, releasing it in November. Tours in support of the release came in 2010, with a short Eastern Canadian trip in February followed up by a short eastern US tour in May, after which the guys went for a full month's worth of touring throughout the US during October. The band's "label debut" then, came with the April 14, 2011 release of the Napoleon Sodomite 7-inch, issued through the Sludge Hummer imprint. Prior to that release (March 9 – April 3), the band had again toured North-America for almost a month, and in August they did a 10-day support tour in eastern Canada with KENMode.
In support of their upcoming official full-length album debut Matterhorn (released March 25, 2012 through No List Records), the guys were again on tour in North-America from March 1, 2012 until the day before the release. That same day saw the release of the digital 6-track EP The Royal We (also released on cassette through No List, apparently). The first weeks of August 2012 saw the band touring in North-America as part of the Arsonfest, and a three-week tour of western US and Canada came in October. For the most part of April 2013 then, the band was on its first tour of Europe. TGS released its 4-track EP Sunday School (which comprise new versions of two older songs) in July. This was supported by a week's worth of touring in Eastern Canada in late August – early September 2013...and the band didn't tour after that, until they did another short month's of gigging throughout the US and western Canada in May – June 2014. In the meantime, the band had recorded its latest full-length, which has been spinning rounds in my cd-player ever since I got the promo, now a couple of weeks ago. Well, actually, it's been longer than that, but all sorts of things (other releases demanding priority, hectic work schedule, and a short illness) have prevented me from finishing up this review sooner (I'd just started it, when the editor-in-chief landed a bunch of priority albums onto my to-do list!).
However, the delay sure gave me extra insight into the wackiness of this band. It made me realize, for instance, that the band has songs with the same titles as some of its releases, but with the exception of the EP Napoleon Sodomite, did not let the two co-occur. I'll explain that rather difficultly-formulated sentence : "Burning Wilderness" is a songs which was nót on the EP by the same title, but it did appear on the Dial Tone EP (and was then, as were three other tracks off the same EP, used on Sad Parade Of Yesterdays);the song "Sad Parade Of Yesterdays" was a track on the Matterhorn album; and "(Mind Over) Matterhorn" (in a reverse of chronological order – the aforementioned songs appeared àfter the releases by the same title) was featured on The Royal We...a song which we now find opening Dog Years. By the way, Sunday School's opening track "Guest Of Honor" is found ensuing "The Royal We", albeit in a new version!
With a sound which is, at least to me, somewhat reminiscent to that of Botch and others of that same Progressive Post-Hardcore ilk, and which certainly includes the use of lower-paced Doom Metal elements, this band sure cannot go wrong with a seasoned listener like myself. Evidently, there's a deal of "good ole' days" reminiscences here (with the absolute highlight being the album's closing track "Life During Wartime", which sounds to me like someone in the band has listened well to the music played in that '60s...or was it '70's?...TV series The Persuaders, featuring Roger Moore and Tony Curtis – hum, maybe I shouldn't say that without having checked the actual music of that series...but it's what that song reminds me of so very strongly, after all), but there's no reason why younger music lovers should not like this type of music as well. "Singing", by the way, is done mostly (the spoken-word antics of "Pitchfork Pete" making the token exception) in a yelling/ shouting modus...just so you know before checking out some of the band's music in the "Music" and "Video" sections of their own website (www.) thegreatsabatini.com.
Hey, any wonder I put this release among the nominees for my "Best Albums Of 2014" lists?