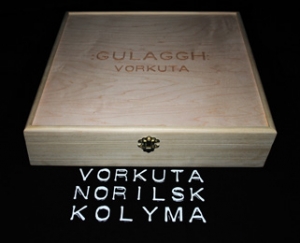 Formerly: Stalaggh, named after a 'stalag', which was a Nazi concentration camp, plus '-gh', the abbreviation for 'Global Holocaust'.
In 2007, when these artists from Holland ended the Projekt Nihil / Terrror (mind the -rrr-!) / Misanthropia-trilogy, a change of name: Gulaggh. A gulag was a work colony at the former USSR, a Soviet working concentration camp, plus 'gh' again as affix.
After a continuous manifestation of sadistic Black Art, now a sonorous transformation of pain, suffering and the extermination of humanity, through torturing realms of the human psyche and total annihilation of consciousness, labelled as Chamber Horror or Torture Ambience.
The vocal parts on the album were recorded at different mental asylums by inhabitants out there (read: heavily mental patients, both children and adults); sick, yet perfectly going with the, well, let's call it the 'instrumental' approach of Vorkuta (first part of another trilogy). Noise and Minimal Industrial, including trumpets, violins, yet especially lots of Chaos and Armageddon.
Madness, referred to as some mixture of Aderlating and Abruptum, but I think both these projects have something more to show. Stalaggh too was much more interesting; this isn't but a noisy concept of freakish delirium and psychotic schizophrenia.
Originally released in 2008, now reissued for the sickest minds amongst us (with a couple of extremely limited editions!)…