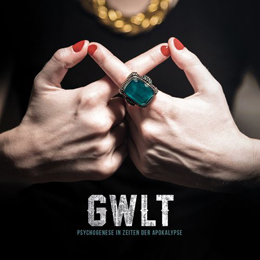 Album Title:
Psychogenese is Zeiten der Apokalypse
Having listened to the mixed result of the material for their Ohne Anfang ohne Ende debut EP (review posted...this very same day!), the members of this München based German project have been hyped like...well, like what, actually? Let's just put it as such, that the guys decided there and then that they should do some more songs together, in fact, continue to record a trilogy of EP's and, in fact, get onto the stages as an actual band!
So the first shows were booked and played, and in between the quintet recorded the three next songs of their socio-critical manifest. Along the way also came the decision to have the first three songs come out on an actual CD (as opposed to just release 'em as downloads). As with the first songs, the guys did not steer their music into a specific direction, but rather let it develop as the songs took shape. Expect the same aggressive metallic Hardcore as on the debut EP, with a calmer hip-hop passage (well, at least musically, because the vocals have very much the same intensity) in the second track, "Frontex". Cited "artists we also like" on the band's facebook page, include Paris, AG, Hazen St., TRC, Rag Men, M.O.P., and Digital Download.
As far as I know, no special website was erected for this second EP by the band, so you may very well have to make due with what was made available there. By the way, I forgot to mention that both EP's are available at Amazon, meaning that on those pages you should at least be able to listen to 30-second samples of all tracks! And, just to show how gradual exposure makes for greater enjoyment, here's proof through an increased rating of this EP, as compared to the debut!