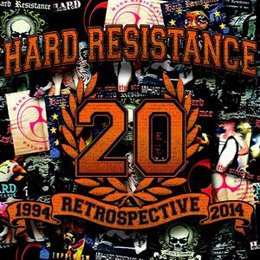 HARD RESISTANCE one of Europe's best hardcore punk band (appeared in the early 90's). In 2008 did some reunion live shows in Europe and after 2 years they started writing new material. In 2012, they released their comeback album "Lawless & Disorder" and in 2013 the mini –CD "Euphemism".
"1994 Retrospective 2014" presents the band's 20 years in a very unique way.
The guys re-record 22 songs for this album. The album was recorded and mixed by THOMAS BLEYS at Golden Din Studio and the artwork was done by ROBERT VAN DER DONK who has also designed the cover artworks for "Lawless & Disorder" and "Euphemism".
"1994 Retrospective 2014" is available as a 2CD deluxe digipack. For the real fans "a must"!!!! Those who do not own the old releases by the band will get the chance to hear some of the band's classics tracks with a better sound. Hard Resistance : Hardcore, Belgium, Antwerp