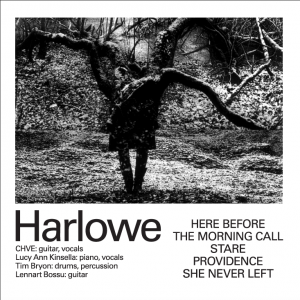 Release Date:
Monday, September 28, 2015
Harlowe are a Belgian project that includes some well-known names from the (Belgian) scene: Colin H. Van Eeckhout (Amenra, CHVE, Sembler Deah, Kingdom, Blind To Faith), Lennart Bossu (also in Amenra; ex-Janez Detd, Oathbreaker), Tim Bryon (The Black Heart Rebellion, Hessian, Kingdom) and solo-artist / model Lucy Ann Kinsella. They joined forces a while ago, with as first result this nameless five-track EP. It was mainly written by Colin, and recorded at the Jetson Studio with Michael Neyt (Oathbreaker). The mix and mastering were done in the Texas-based Twin Hills with Chris Common (Enabler, Book Of Black Earth, Pelican, These Arms Are Snakes etc.), and the stuff gets released by our own Consouling Sounds on both vinyl and CD (twice in an edition of 300 copies).
Here Before, the opening track, combines sit-down percussions, integer acoustic guitars, bass-paced piano melodies and integer yet intrinsically persuasive, expressive female vocals, like some mushroom'y singer-songwriter alike acoustic experiment. With The Morning Call, this sort of gets continued, though this song is much more integer, minimal and sober in all aspects. The acoustic guitars breathe integrity, calmth, introspection, introversion, yet still withholding a modest psychedelic character above all. Folk it is, with a fine amplification towards the end. Stare too is mostly integer, melancholic, introvert in expression and impression. Piano and female narrative voices (no, not really narrative – Lucy Ann does sing, but she's telling a story…) are the foundations this song is built upon. The fourth track, Providence, is somewhat progressing in comparison to the three former pieces. It's a composition structured around acoustic guitar riffs and leads (both equally presented) and tribal percussion, holding the middle in between the Hippie Folk tradition of about fifty years ago, and the Neo-Folk current that revives lately in Scandinavia and the alpine countries especially. She Never Left, finally, is a very atmo-psycho-melo-melancho-oriented Folk piece, based on rather simplistic yet truly intriguing acoustic guitar lines and melodious, little fragile voices, with towards the end a sort of outburst, which includes trippy percussions besides a faster acoustic rhythm.
Consouling Sounds do surprise me time after time, but with the Harlowe-release, they trespass borders not touched before. And still I think it might fit to this label's roster, for this release maintains and withholds those elements that differ from the grey masses at the one hand, and that might appeal to adepts of the label somehow.