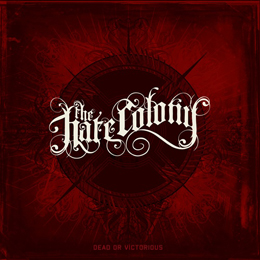 Release Date:
Tuesday, September 2, 2014
This Trondheim based Norwegian fivesome going under the nicknames of Lord Mordor (lead singer), T-Bag Joe (guitars), Big Truck (guitars), Sars The Virus (bass), and El Nigardo (drums) have chosen to separate themselves from the typical choice of musical direction which Norwegian bands usually take, going for an exhilarating Metalcore, in stead of the usual Black Metal.
Regretfully, the info lacking, I cannot tell you when the guys first got together to form the band, but I'm happy to share whatever I found. So, in September of 2011 the band released its debut album Dead Or Victorious via the Tröndercore Records label, and they have since joined the Norwegian Metal elite by pulling off the feat of being able to reproduce their studio sound on stage. Norwegian press hailed the album as THE Metalcore release, and the album not only made #1 on the local album charts in the North of their country (which is, after all, the band's natural habitat, so to say), but also went up to #11 on the VG-Lista Topp 40 (compare it to the UltraTop in Belgium, or Billboard 200 in the US). Having roamed across their country to play at any venue that would have them, the band eventually settled down to write new material, and they are actually in the studio this very moment, recording the material for an album which is set for release early in the next year.
Meanwhile however, the band has set its goals on proving the world that Norway is not ust about Black Metal. At first, that seemed like a somewhat awkward statement to me, but when I tried to recollect off-hand (without actually researching, you know) some bands outside that genre of Extreme Music, I failed quite miserably. Which doesn't mean that there's indeed Norwegian bands of some importance outside the Black Metal scene, but the offering of acts from that part of the musical spectrum is simply too significant, to the point of overwhelming everything else, really! But...that set aside, the band is already confirmed for a performance at the 2014 Underwall Festival in Croatia, and hopefully more European shows will follow...although I guess we may have to await the release of the band's sophomore album (tentatively entitled Navigate)!
Which is a pity, because The Hate Colony's music is really great, and contains elements which will please both fans of Extreme Metal, Metalcore purists (if indeed such an oddity of people exists), and progressive Metal! Because THC (heheh...what's not to like about a band with such an abbreviation, eh?) combine it all in masterly fashion! To get a whiff of the band's music, check the album's pages at Amazon, iTunes or CDBaby (I'm sure they all provide samples of the songs). Weirdly enough, at (www.) facebook.com/TheHateColony (the only source of info outside the info sheet which came along with the download promo of the album) you will find NO songs off the debut album posted, but there's a teaser "video", and a video for the non-album track "Your Murder Scene"...as well as audio files for two other non-album songs (perhaps posts of what's to be expected, eh?). However...the album IS available for listening at Spotify and Wimp!, so anyone knowing his/her way around those outlets, hurry on down there for a listening session! There's a good chance you'll make it more than one session...and then decide to find a way to buy a hard copy of the album.
I mean, I was personally impressed to the point of wanting to place Dead Or Victorious into my 2011 year-lists retroactively, and I'm making the bold statement that a good portion of those people whom get in touch with the band's music through this review, will follow suit!