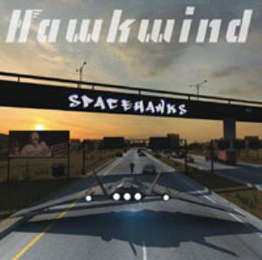 Aahhh, Hawkwind...masters of Psychedelic Space Rock! You know, it's the first time I'm being asked to review an album by this great band revolving around guitarist Dave Brock? Due to our usual Spaced-out specialist temporarily being unavailable, you see, and although it means extra work in my to-do box, I'm not exactly complaining!
It would take me too long to rake up this British band's history (and some juicy details of controversy between original members Dave Brock and Nik Turner), so I'll just re-direct those interested in such tales to the band's detailed Wikipedia page. Now, before goin' on, I feel the need to state the fact that my own collection of Hawkwind albums stops in the year 1999, when I bought the then current albums Live and Year 2000: Codename Hawkwind, Volume One (the first, obviously, a live album, the second a double CD compilation). That same year, the band also released the studio album In Your Area, three other compilations, and three additional "archive" albums...enough, really, to throw off even the most fervent fans of the band, seen as the track-lists of those albums contained numerous cross-references! Anyway, since then the band released a total of 6 more studio albums (among which 2000's Spacebrock, a solo album by Brock released under the Hawkwind monicker), 3 live albums, 5 compilations, and an astonishing 11 "archive" albums (keep the latter item in mind for later, okay!?).
Well now, that brings us back to the album at hand, which is announced in the info sheet which came along with the download promo copy of the album as containing "...14 exclusive tracks, ranging from the re-imagining of classic hits like "Sunship" and "Seasons" to brand new, previously unheard tracks like "Lonely Moon" this is s tour de force of Space Rock, unlikely to be matched or surpassed by any young pretenders."! Funnily enough, "Seasons" opens the album, and "Sunship" closes it, and while these songs which are unknown to self (hey, I may have a "respectable" collection, but I can hardly have everything, now can...and besides, the band's output since the new millennium is simply missing), the info sheet makes no mention that there's versions of "We Took The Wrong Step" and "Master Of The Universe" (both off the band's 1971 sophomore album In Search Of Time), "Assault & Battery" and "Golden Void" (both off the band's 1975 album Warrior On The Edge Of Time), and of "Sonic Attack" (a long-time classic which even made it to some live albums before ending up on the 1981 album by the same title). I mean, when you're talking about "Master Of The Universe" and "Sonic Attack"...thóse are Hawkwind classics if anything, right? So, anyway, what we have here is yet another "archives" album, isn't it? Just my rotten luck that it couldn't be an new studio album...but beggars can't be choosers, and the besides the songs I already knew there's still loads (16 tracks in all, you know!) of things I hadn't heard before, including a very sensitive piano-electronics based ballad (the aforementioned instrumental shortie "Lonely Moon" - length exactly one minute) and some other short diddies toward the end of the album.
End conclusion: there's no getting around it, is there...what with Brock's tactics of recording, he still may have quite some "archive" material up his sleeve and, in fact, capable of producing plenty more in the future too! And as long as he continues to bring new stuff to those releases, the "archive" series remain something for not just the die-hard fans! Of course, I can understand some of you wanting albums to be filled with completely new material...but those people will just have to wait a little longer in between studio albums, I guess! Meanwhile, let's honour Spacehawks by adding it yo our 2013 year-lists!